Monthly Medicine | In July We Enter the New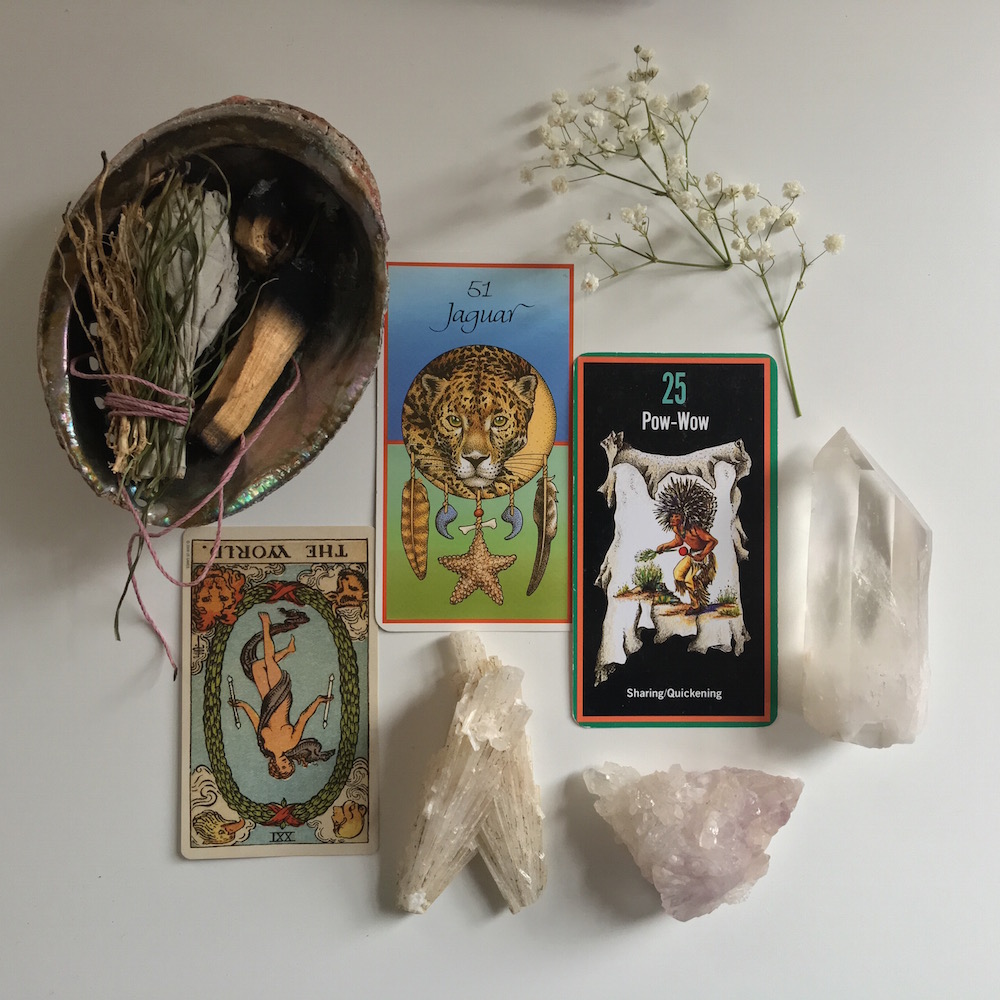 The World, reversed — Smith-Rider Centennial
Jaguar — Medicine Cards
Pow-Wow — Sacred Path Cards
July is going to be one powerful mama of a month. Huge, huge transformational energies are at play here. We are entering a new time, a new energetic dance, one that is centered around honesty, integrity and authenticity. Whether you're operating from this place of alignment or not, expect a pretty massive upgrade.
When we are shining our truth into the world, it's akin to a lighthouse calling the ships into her safe harbor. It is a beam that cuts through any darkness or shadow; it calls our true tribe to us. July is related to this metaphor. If we are hiding our light, it is going to get blasted open in some way. If we are shining our light in a strategic way, trying to call in who we THINK we should be around — that is going to get transformed. It is simply too exhausting to keep up a false face forever. Be willing to consider that you can beam out your true self and have life be so much easier. Be willing to upgrade that belief: that who you think you should be is better than who you really are. It's never been true and it's time to upgrade that. To those of you who have been shining your light brightly against all odds, expect spectacular acknowledgement for that this month. There will be amazing rewards for that, in the form of an outpouring of love, community and proof of the importance of your Divine presence. The World needs you, literally. It needs all of us, shining authentically. There is transition across the board this month, but it will ring true for all of us a little differently.
The medicine of THE WORLD card signals a new karmic cycle, a rebirth from a place of joy and completion. We will never revisit this place the same way again. The reversal adds a richness and complexity to the card that is important; understanding it will be a very helpful aspect of moving through the energy.   This reversed aspect has to do with resistance.
The World card is a lot like having a baby; it's tough to imagine holding that back. When The World comes up reversed, we are either trying to hold that baby back, OR we are trying to rush our labor. As mentioned above, for those who have been operating from authentic truth, you've been feeling some organic shifts and upgrades that are happening, and the natural desire to align with those more holographic upgrades have been powerful. This doesn't mean more attention, fame, or power. It's totally non-egoic. It's the letting go of any control, strategy or manipulation; operating completely from surrender and soul, wanting that freedom. This is the birth we are in. So the people in that camp, expect to experience the desire to want to rush the birth.
For those who have been operating out of a little more control, it may feel this month like you didn't even know you were pregnant, much less having a baby. There might be a lot of resistance. You can't stop The World, so you may as well say yes. Just say yes this month. Be willing to be wildly courageous and jump into your truth. Not your curated truth — the truest truth you know. If you don't know what your truth is, turn off your phone and become quiet. Listen to it, listen for it. The time has come, and July will be a portal to that new way. The reversal doesn't change the fact that we are in a huge and joyful rebirth; it does color how to view and move through our labor. We have total control over that, so move through the month with compassion and care.
Jaguar is impeccability and integrity; this card is working seamlessly with The World card, and makes the energy of it what it is. This card is so powerful and important. It honors us for moving through life with authenticity and integrity shining. It honors us for doing this in times where no one might have seen or noticed. It bows to us, and we may bow to ourselves, too. There is no judge of integrity behind closed doors; we must live with our choices and decisions. If you've been in the midst of a tumble, know that it is some aspect of your integrity that is moving back into alignment. This doesn't mean you were NOT integral, or did anything wrong. It can arise when we say yes just to be helpful, but we really mean no. It can mean being integral to ourselves. Jaguar honors this, and it is the centerpiece of our evolution this month.
Pow-Wow is asking us to move through this time with support and community. How are we reaching out? With whom are we communicating? Are we upgrading together? Be willing to stay in close contact with others who are moving through this shift as well.
We are entering a new time. There is no longer room for ANYONE to not be living in their authenticity, their true soul path. If any of us are out of that alignment, even a little bit, that will get corrected this month. Expect to be upgraded. The more we commit to a wave, the more incredible the ride. Get ready for the ride of your life this month.