Howl-i-Day Rituals | Solstice Succulent Wreath
The Winter Solstice is upon us! Wednesday, December 21st, is the shortest day and the longest night of the year, a time of transformation, facing our darkness and the four-footed shadow that follows behind. It's a time to reflect and look inside, shedding old layers and versions of ourselves that no longer serve who we are becoming. The Solstice is a time to heal old wounds, release old habits and re-emerge in the new light, as a better and stronger version of ourselves.
Last Solstice, before the newest form of Of The Wolves was released, Amelia Posada, the incredibly creative force behind Birch & Bone florals, and I got our hands dirty playing with magical materials, like succulents, mosses and antlers! I loved this ritual so much that I wanted to make sure to bring it to the Wolf Pack on our new site for Solstice this year. Traditionally, wreaths and greenery this time of year are made with an evergreen trim of some kind. However, we decided to shake things up and take a more sustainable, succulent spin on it. Below, we share a step-by-step guide to making a Solstice Succulent Wreath for your holidays! Once the greenery is rooted, this succulent wreath can be hung year round. Gather some supplies and your friends for a wreath making party of your own with these handy how-to steps, listed below.
DIY WINTER SUCCULENT SOLSTICE WREATH

Tools:
wire wreath frame
sphaglum moss
floral wire or thin, green waxed twine
succulent cuttings (let these cuttings sit out a few days before using)
your favorite objects
floral shears
scissors if using twine
Lay out a drop cloth or towels, and roll up your sleeves – we're getting down and dirty!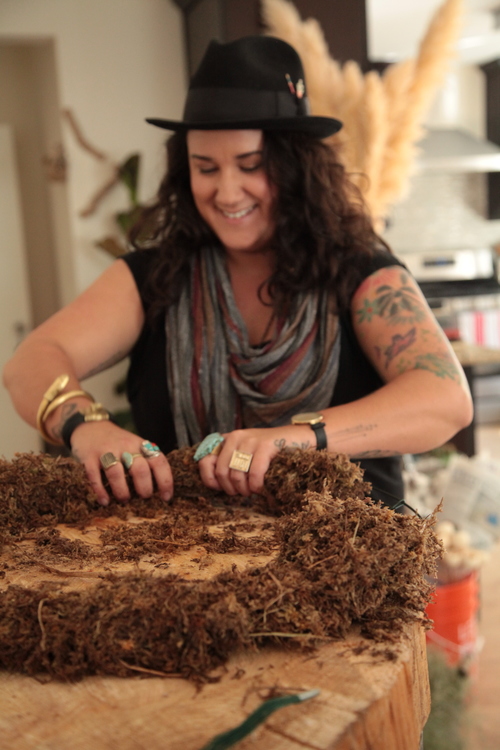 Step 1 // Submerge and soak your moss for a few minutes, then squeeze the excess water out, and out aside.
Step 2 // Place generous clumps of moss all around the wire frame, so it's covered, then use your hands to mold the moss all around the frame so it feels as tight as you can make it.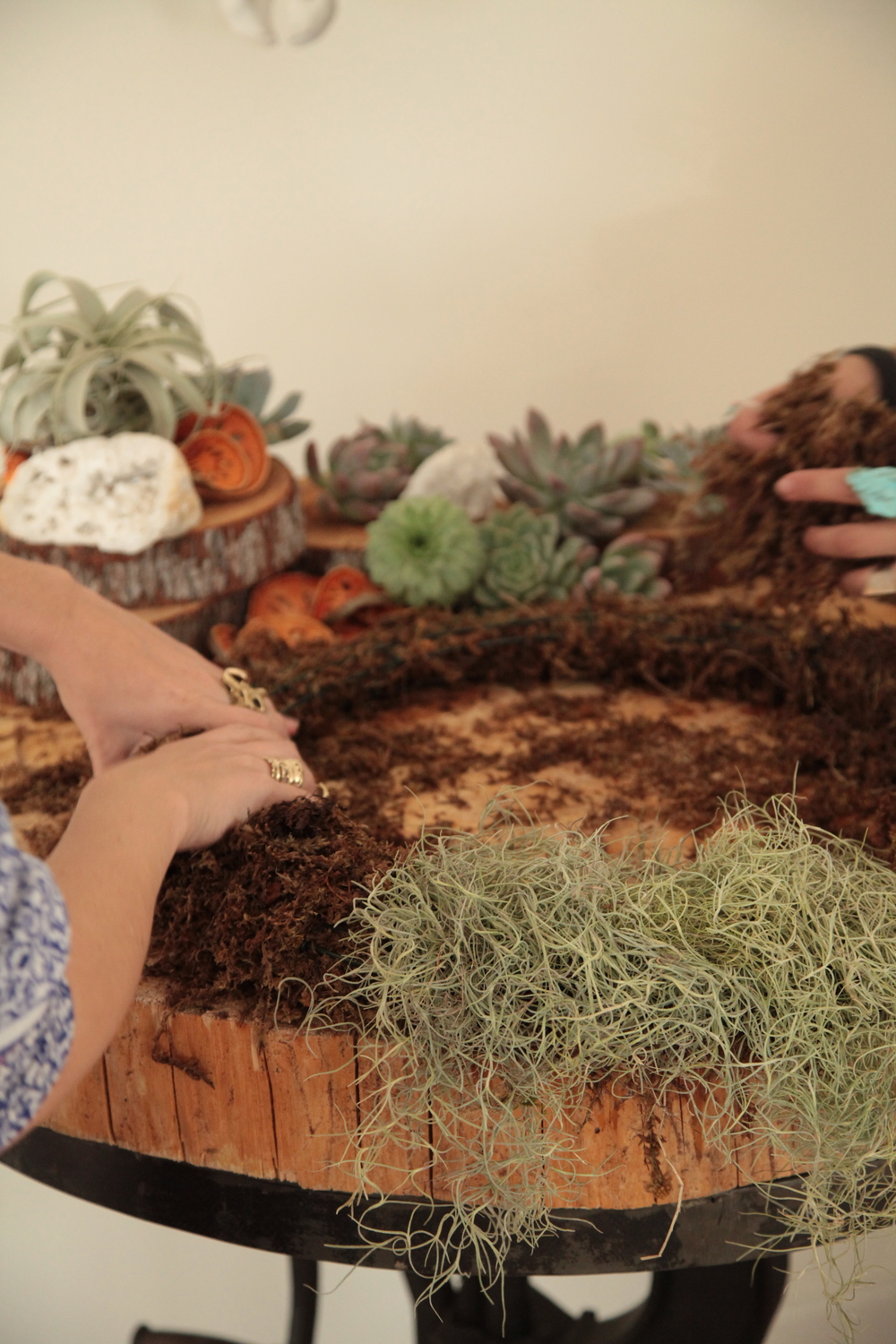 Step 3 // Take your floral wire or your green waxed twine and tie off an initial loop and pull tightly onto the frame, then loop tightly around the whole wreath so the twine is holding the moss securely onto the frame. Feel free to repeat this step if you want to ensure that it's strongly secured.
Step 4 // Take a pen and poke a hole wherever you want to place a succulent, and use a floral pin to push down into the stem to secure it to the wreath. Repeat this step until your wreath is filled with succulents
Tips: Leave space on the wreath to add in any other meaningful objects you want to mix into the succulents!  // Leave wreath in a semi sunny space for about 6 weeks, watering once a week, allowing the succulents to root, before hanging.***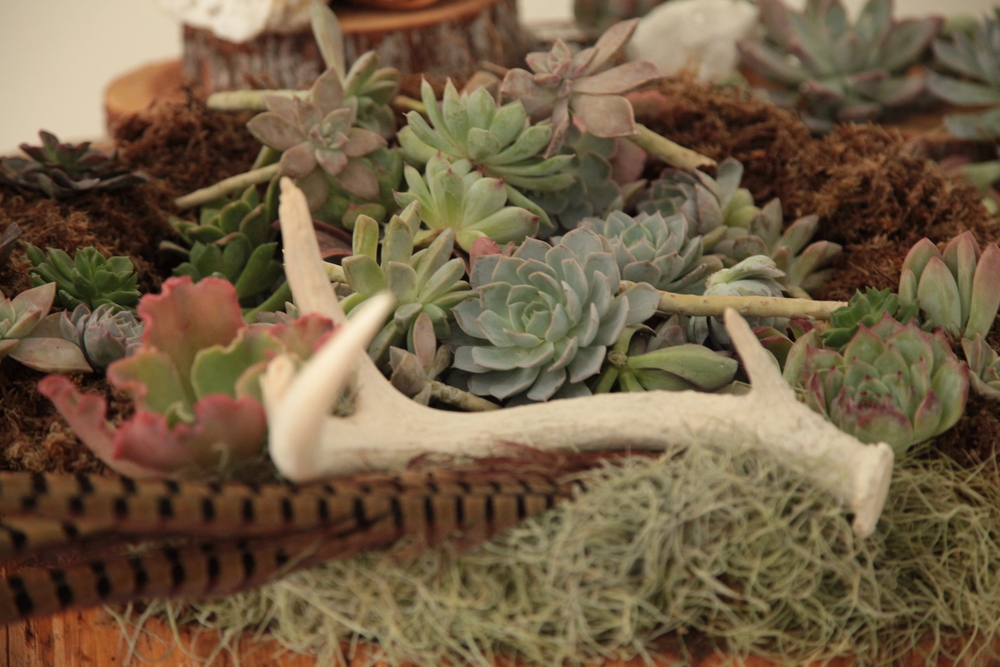 WINTER SOLSTICE WREATH RITUAL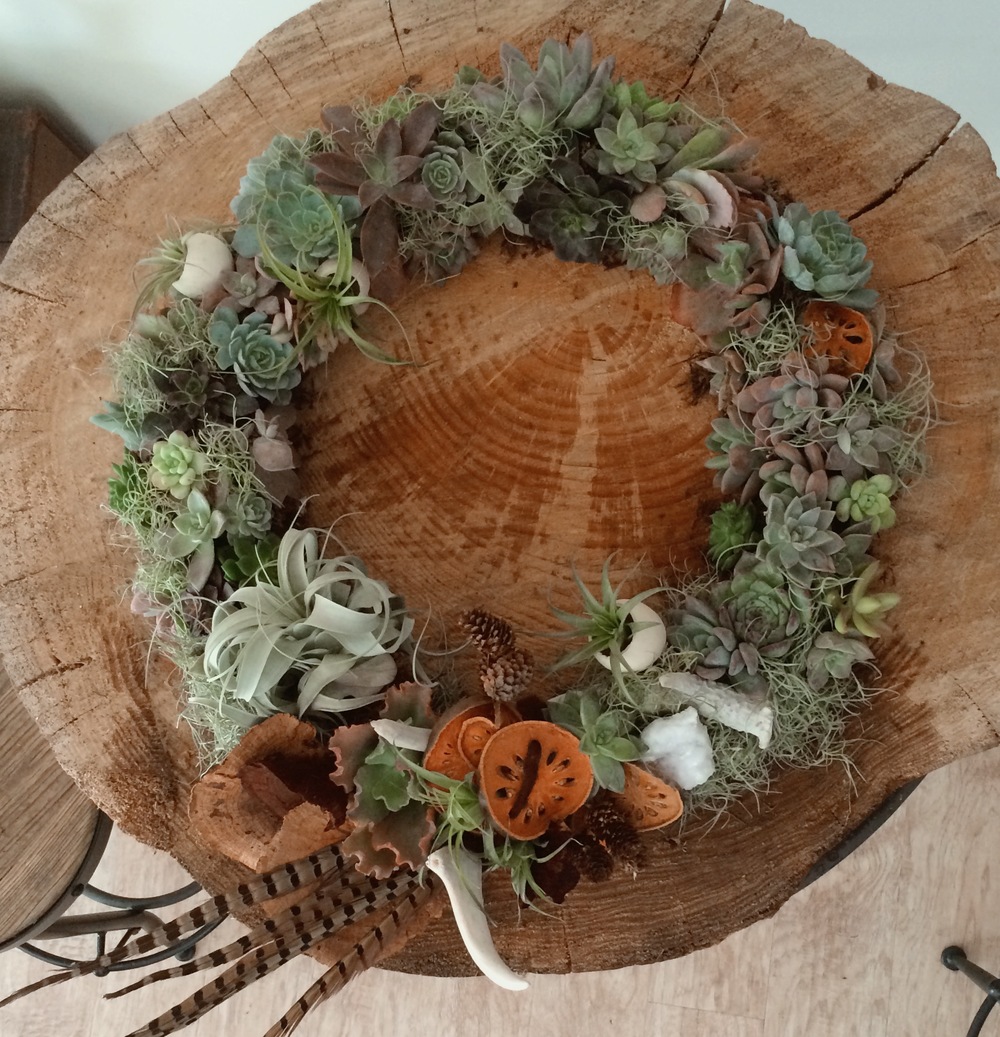 Featuring Birch & Bone succulent wreath, SPELLBOUND SKY CANDLES, ritual by Lulu
Think of a ritual as a moving meditation, something that puts your thoughts and prayers into motion. In this ritual, the circle of the wreath is representative of the cycles of nature and the path of all living things. What is dark will become light and what is light will return once again to darkness.  The circle is also a sacred container intended to hold your desires and wishes.  Candles are used in many faiths and practices: the fire is representative of Source, Goddess, God, Light, Higher Power…whatever terms you use to connect to Spirit;  the smoke released from the candles is representative of one's prayers + dreams being lifted up to the Heavens.
When the sun goes down for the day and the darkness of the night sky sets in, sit down in sacred ceremony with your Solstice Wreath. On a simple white sheet of paper, write out your meditations for surrender, transformation + healing based on the different candle themes each week, and place under the candle. Sit quietly for 10 minutes by the light of the candle, reflecting on the meditation for the week, keeping the light of hope in your heart. Candles can be burned for as little or as long as you'd like; however, the longer you feel comfortable burning the candles each Tuesday, the better for the ritual. Each week you will reflect back on past week's theme, light the old candle + repeat the ritual again with the new candle of the week. November 30th is the only week that two candles will be lit in one ceremony. By the final week of the ceremony all five candles will be lit, shining brightly like a beacon into the darkest night of year. In the morning the Sun will be reborn, bringing with it new light and hope for renewal.
---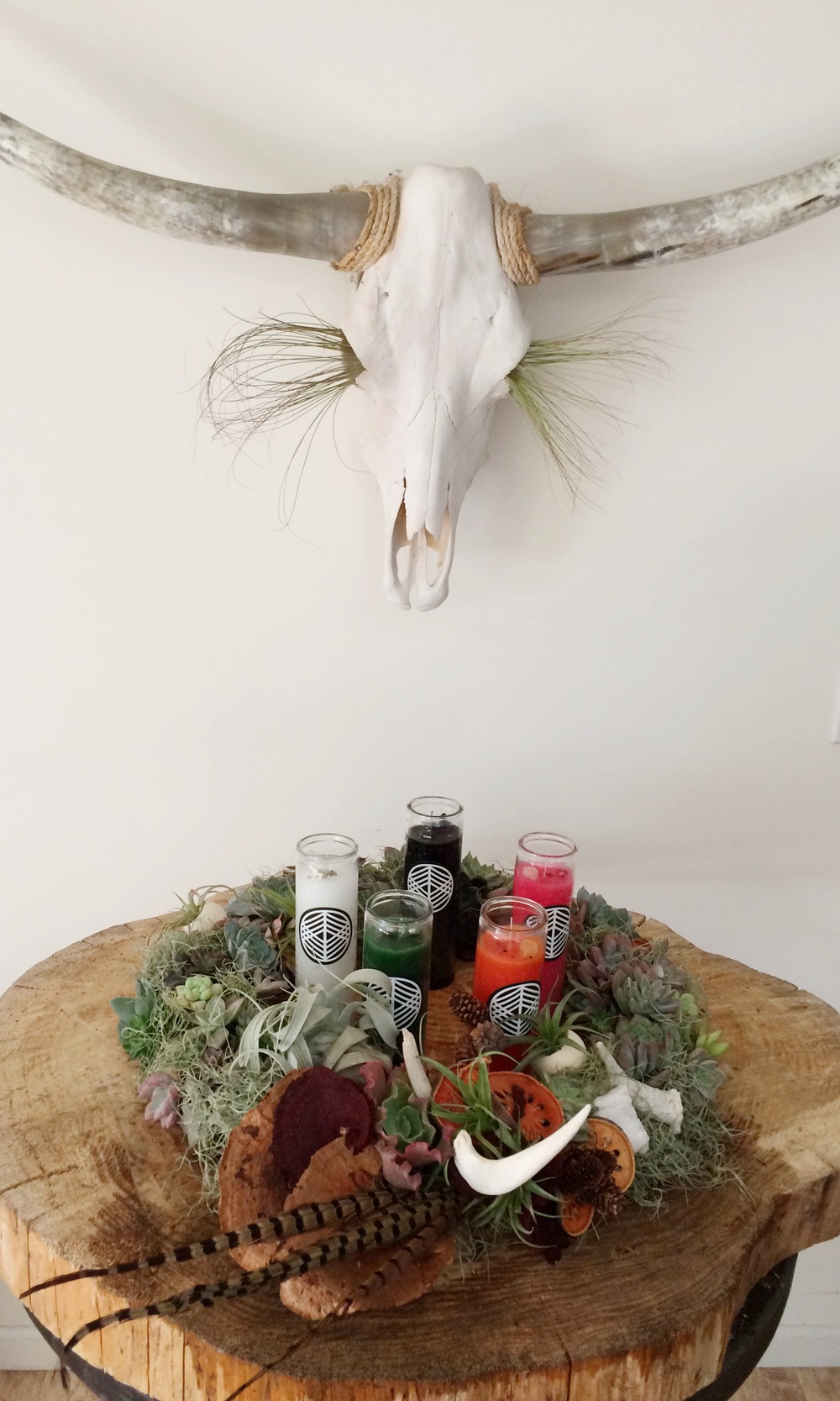 NOVEMBER 30

BLACK NEGATIVITY CLEANSING CANDLE 
Meditation: I am grateful for my shadow teachers, and I surrender the patterns that are no longer serving me…
Provides intense purification from negative energies that you no longer want in your life.  If you feel you need a fresh start or want to clear the air of any heaviness, start the process by burning this candle. Infused with apache tears stones and dragons blood to accelerate the cleansing. Directly after the candle is finished burning, it is recommended that the candle and stone is disposed of due to the negative energy that was absorbed during the ritual.
PINK LOVE AND UNITY CANDLE 
Meditation: I open my heart to receiving love freely from self and others, and I honor those walking this earth with me…
 Used to open your heart to give and receive love.  This candle surrounds you with the essence of love and harmony.  It can also be used to create passion or love possibilities and allow self-love to flow freely.  Infused with rose quartz crystals and ylang ylang to elevate the affectionate energy. This can also be used as a energetic candle, choosing to light it for a period of time when a love energy in your space is desired.
DECEMBER 7
ORANGE CREATIVITY AND INSPIRATION 
Meditation: I open myself up to the infinite source of creativity and inspiration from spirit and honor the impulse to follow where it leads…
      Unlock a creative flow and access a confident source of inspiration from the spiritual realm. Use this candle to stimulate an artistic venture and create a visionary perspective. Infused with a orange calcite crystal and bergamot essential oil to accelerate creative the process. 
DECEMBER 14
GREEN PROSPERITY & ABUNDANCE CANDLE 
Meditation: I open myself up to receiving from the infinite universe, as I am worthy of prosperity and abundance…
Manifest success and good fortune into your life and create a world of unlimited possibilities.  This is the perfect candle to burn to attract a new opportunity in your life or accelerate your desires. Infused with patchouli for enhanced prosperity, an aventurine stone for good luck, and pyrite stones to create a 'can-do' attitude.
WINTER SOLSTICE DECEMBER 21st
WHITE ENLIGHTENMENT CANDLE 
Meditation: I love and honor my connection to spirit and the Universe…
Reinforce your spiritual connection with a white light of purification and peace. Use this candle to express love and gratitude toward the Universe. Infused with frankincense and quartz crystals to enhance the divine affinity, this can also be used as a energetic candle, choosing to light it only for a period of time when a spiritual connection in your space is desired, perfect for meditation and yoga.
                                          All photos courtesy of Justin Zsebe
Follow Birch & Bone | www.birchandbone.com | @birchandbone | 6130 Wilshire Blvd. LA, CA 90048