In Service? | 4 Books to Help You on Your Path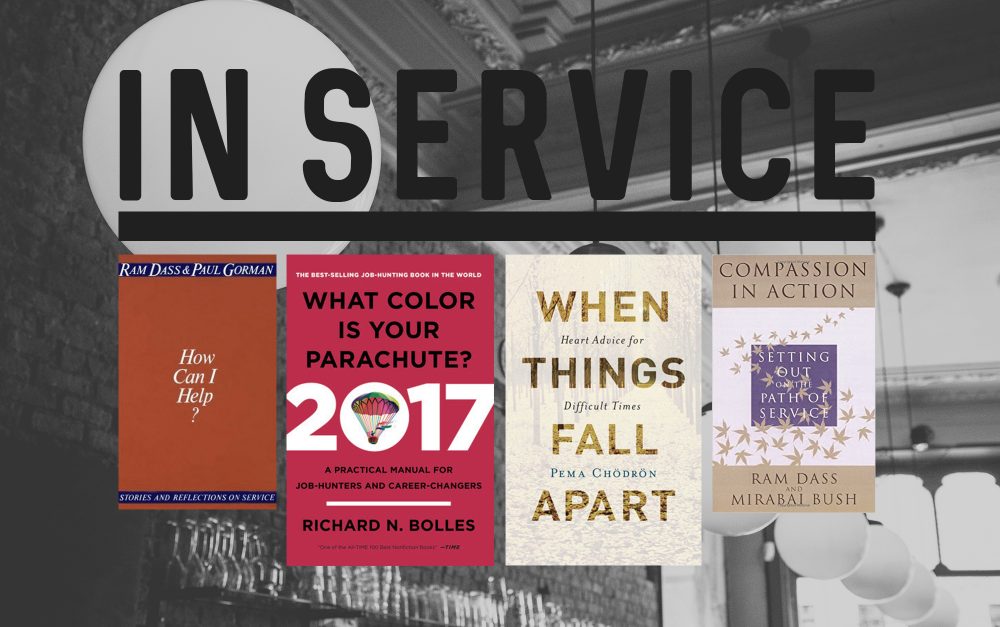 You feel called to lead a life of service and/or focus on mission-oriented work? What a wonderful calling it is, but the road is not always paved with smooth stones. Following are several books I either stumbled upon myself or was referred to by dear friends as I honored a life-long calling and entered into a new life a few years ago – to start a socially conscious, mission-driven organization, The MiA (Made in America) Project; to train as a life and executive coach; and to partner with my other Wolfie half to present the global gift of Of The Wolves. Look out for the next installment soon, as there are near countless compilations that can and have been applied to the subject of leading a healthy life of service.
How Can I Help?: Stories and Reflections on Service By Ram Dass
I must admit that despite its obvious relevance and overt assertion that this is a book to read when embarking on any life of service, I did not immediately form a bond with the authors' roll out of prose. But in its totality, this book is important, and Ram Dass is a venerable sage to millions around the world. More about this book: "Not a day goes by without our being called upon to help one another–at home, at work, on the street, on the phone. . . . We do what we can. Yet so much comes up to complicate this natural response: 'Will I have what it takes?' 'How much is enough?' 'How can I deal with suffering?' 'And what really helps, anyway?' In this practical helper's companion, the authors explore a path through these confusions, and provide support and inspiration for us in our efforts as members of the helping professions, as volunteers, as community activists, or simply as friends and family trying to meet each other's needs."
Compassion in Action: Setting Out on the Path of Service By Ram Dass and Mirabai Bush
I'll just let the book's synopsis do the speaking here: "This classic guide is for those ready to commit time and energy to relieving suffering in the world. No two people are better qualified to help us along this path than Ram Dass, who has spent more than 25 years teaching and writing on the subject of living consciously, and Mirabi Bush, who succeeded him as chairperson of the Seva Foundation." Also from Library Journal: "In explaining how one becomes compassionate or works to reduce suffering, Dass presents his own spiritual journey in the first part of the book. Although he is open to various religious and philosophical traditions, he is primarily grounded in the traditions of the East, especially Hinduism and Buddhism. The second part of the book, written by Bush, contains a discussion of principles for compassionate action, such as 'Do What You Love,' 'Start Small,' and 'Reflect on Your Motives.' At the end there is not only an annotated bibliography, but an annotated directory of organizations which will appeal to those seeking to put compassion into action."
What Color Is Your Parachute by Richard N. Bolles
I haven't read the updated, 2017 version of this book, and as trite as this book suggestion may seem – as countless people have suggested it before me – there are reasons for that. This book is more remedial than the others, focused on job searching and career paths, but deeply acknowledges the need many people possess for meaningful work that gives back to a greater good – greater than company profitability and personal gains.
When Things Fall Apart: Heart Advice for Difficult Times by Pema Chodron
Personally, this one might be the most important to me in terms of understanding my own service path…and how, really, it's been in the making since I was a little girl – growing up inside me, along with me. Many of us come to service-oriented work and mission-based callings because of trauma, challenging circumstances, baptism by fire life trials. Pema Chodron is incredibly simplistic – and genuine – with her language and suggestions in most of her books, and this works to a great advantage. More about this book from Amazon: "The beautiful practicality of her teaching has made Pema Chödrön one of the most beloved of contemporary American spiritual authors among Buddhists and non-Buddhists alike. A collection of talks she gave between 1987 and 1994, the book is a treasury of wisdom for going on living when we are overcome by pain and difficulties. Chödrön discusses:
•  Using painful emotions to cultivate wisdom, compassion, and courage
•  Communicating so as to encourage others to open up rather than shut down
•  Practices for reversing habitual patterns
•  Methods for working with chaotic situations
•  Ways for creating effective social action"