Shiitake Gyoza Recipe | Kitchen Witch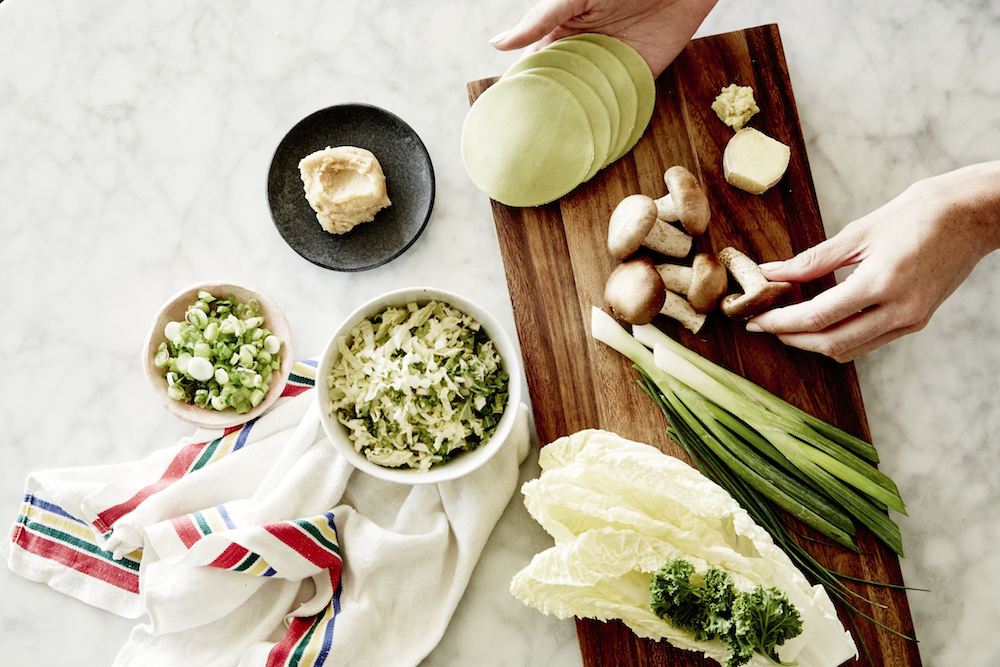 Hot-out-of-the-pan crispy shiitake gyoza, a cold beer and a peach sunset are the kind of necessities I can get behind. For most, fall is beginning, but the warm days continue here in Los Angeles and I just can't get enough of the golden crunch these gyoza deliver.
Although making your own gyoza wrappers from scratch can be meditative (repetitive) and satisfying (challenging), feel free to buy gyoza wrappers at the store and you'll be one step closer to putting your feet up.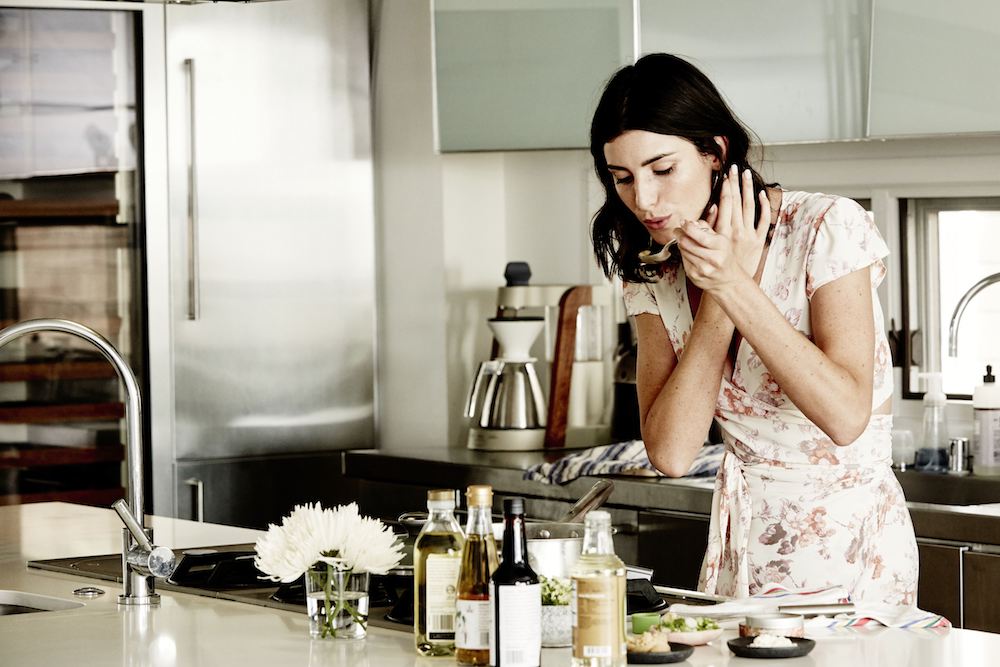 GYOZA FILLING
2 tablespoons un-toasted sesame oil
2 cups napa cabbage, finely chopped
3 cups shiitake mushroom, diced
1 cup kale, finely chopped
4 spring onions, finely chopped
1 tablespoon ginger, micro-planed
2 tablespoons white miso paste
2 tablespoons tamari
1 tablespoon rice vinegar
1 tablespoon mirin
1 teaspoon cornstarch
Mix tamari, rice vinegar, mirin, cornstarch and miso in a small bowl until combined. In a medium pan, heat the un-toasted sesame oil on low-medium heat, throw in green onions, ginger and shiitake. Soften but don't brown. Add your napa cabbage, kale and tamari mix. This will create a lot of steam, be prepared with your lid and cover. Steam for two minutes, kale will turn bright green. Transfer to a plate. Set aside to cool in the fridge or on the counter.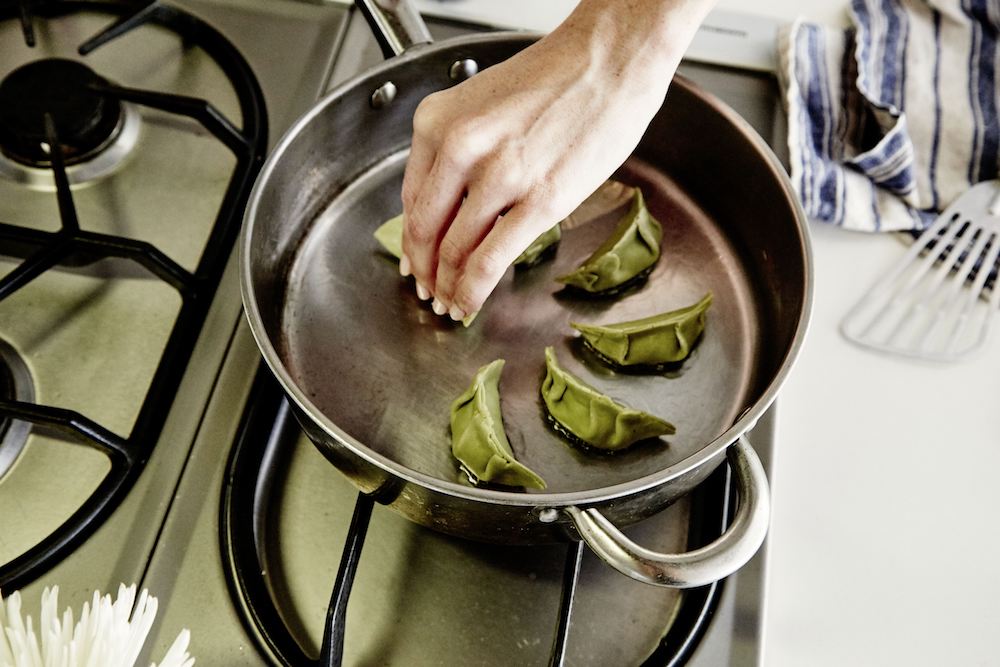 GYOZA WRAPPERS
1 3/4 cups '00' flour
1/4 cup cornstarch
1/2 cup just boiled water with 1/2 teaspoon salt, dissolved
2-3 tablespoons spinach juice
2 tablespoons potato starch/corn starch for dusting the counter/between wrappers
Sift flour and cornstarch into a large bowl. In a separate bowl, mix water and salt until dissolved, add spinach juice. Make a well in flour and pour spinach water into the center. Use a chopstick and mix until dough forms. Once dough is formed, place on a clean surface and knead for 10 minutes – don't be tempted to skip this step. Put on some jams and zen out while you knead. Cover and set aside for 30 minutes. After 30 minutes resting, place the dough onto a lightly floured surface and knead for two minutes. Cut in half. Set aside and cover half. With the other half dough, roll into a skinny log shape. Cut in half and place logs side by side. Cut seven pieces for each log. Cover the pieces and take one onto your clean surface. Roll into a ball and press down making a little pancake shape. Roll out with a rolling pin, starting from the center of the circle. Wrappers will be thin but sturdy. Set aside wrappers, sprinkle with potato starch, and cover with a linen cloth. Once all 14 are rolled out, keep covered.
TO FILL THE GYOZA:
Prepare a small bowl of water, a dry towel, a tablespoon and a plate with a towel to cover. With your hand-rolled gyoza wrapper in the palm of your hand, use a tablespoon to place filling in the center. Dip a finger into the water bowl and trace the outside of the wrapper in a circle. Fold into a half-moon shape and pinch in the center, then, starting at the far corner, fold and pinch the dough until the center mark. Repeat for the other side. You should be left with a crescent-shaped dumpling with pleated folds on one side. Repeat for all 28 gyoza.

1 tablespoon un-toasted sesame oil
1/3 cup water
1 teaspoon potato starch
1 tablespoon toasted sesame oil
Heat a pan with one tablespoon un-toasted sesame oil, place gyoza into the pan, arrange in a circle, making sure the bottoms are covered in oil. Cook for 30 seconds or until the bottoms are golden. Add the 1/3 cup water (with 1 tsp potato starch mixed in, this will create the crispy wings), put the lid on and steam on high heat for 3-4 minutes. Remove lid, cook for one minute, add one tablespoon toasted sesame oil, continue to cook on medium heat until the water evaporates and your pan is coated in a thin crispy layer. Turn off the heat, using a metal fish spatula, check the gyoza are loose, place a small plate over the gyoza and flip the pan over. Eat right away with Yuzu Dipping Sauce.

YUZU DIPPING SAUCE
2 teaspoons yuzu juice (I ordered mine on amazon but you can substitute with lime juice)
2 teaspoons tamari
2 teaspoons toasted sesame oil
1 tablespoon rice vinegar
1 inch ginger, julienned or micro-planed
1/2 teaspoon red pepper flakes
sprinkle white sesame for garnish