Ready, Set, Jet, Nourish | Travel Essentials with Sakara Life
There are two things that I am lucky enough to do A LOT…work and travel.
Most often, I am working right up until I travel, or I am traveling right up until I work. It's definitely not the best way to go about it (enter my parents voice saying "Troian you're burning the candle at both ends!"), but if I want to get the most time I can with my fiancé who lives 3,000 miles away, or if I want to shoot a film on the weekends while I am shooting Pretty Little Liars during the week, I don't have a choice. One day I'll learn to sleep, I promise, but until then the one thing I can do is take care of myself while living on the go.
Sakara the whole food, totally delicious, entirely vegan, sexy food delivery service that I turn to, to get me through my 14-hour days on the show,  just made doing that a whole lot easier. They created a JET-SET one-day program to keep you feeling healthy and energized during a full day of travel OR to get you back on track if you have had a little too much fun on a vacation (slowy raises hand and lowers sunglasses).
As I just got back from vacationing in Canada on my one-week break from shooting and went straight to set at 6am the next day, I didn't have time to grocery shop, do laundry or sleep (again). But I did have the genius idea to try this one-day program upon returning home. And thus, I felt like the smartest little traveler when I awoke to find a big bag of delicious and healthy goodies waiting for me on my doorstep to get me through my work day.

Here's what they gave me/The Travel Essentials:
Watermelon jerky and home-made granola to snack on, probiotics, detox tea, beauty and energy bars with ingredients like lucuma + charcoal, green coffee and lemon, and pineapple coconut.  I mean, what is this Christmas? Oh yeah, and it came in this really great inspirational quote tote bag!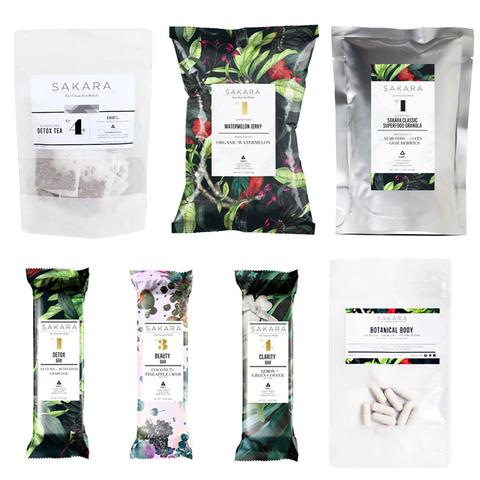 But then, when I do get out of bed, drink my water and haul my butt to Rosewood, I get the most beautiful granola breakfast. Now, as I said, Sakara is entirely vegan, but I am not. I LOVE yogurt, but this cashew and coconut concoction was so delicious and filling, it kept me going all the way up until lunch. At which point you get this little juicy treat.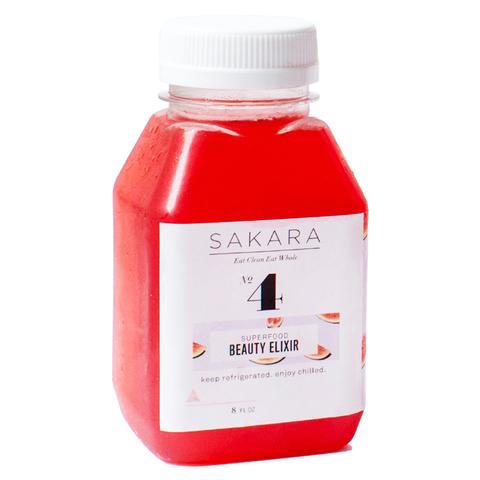 Sweet and light, this was much less sugar than a juice and keeps me drinking water when I get bored of it.
So then, lunch comes. There is never a dull day in Rosewood, and though we have been going since 7AM this morning, lunch rolls around, and we have a table read to attend. Sometimes the food at the table read is good, and sometimes it's a lot of things I don't eat. There is nothing worse than having to work on an empty stomach, so I was thrilled to roll into the table read and sit down in front of the next script with a huge delicious salad – purple cabbage, jasmine rice, ripe tomatoes. This salad was not only beautiful and colorful, but everyone was asking me where I got it. HA! As if I would share!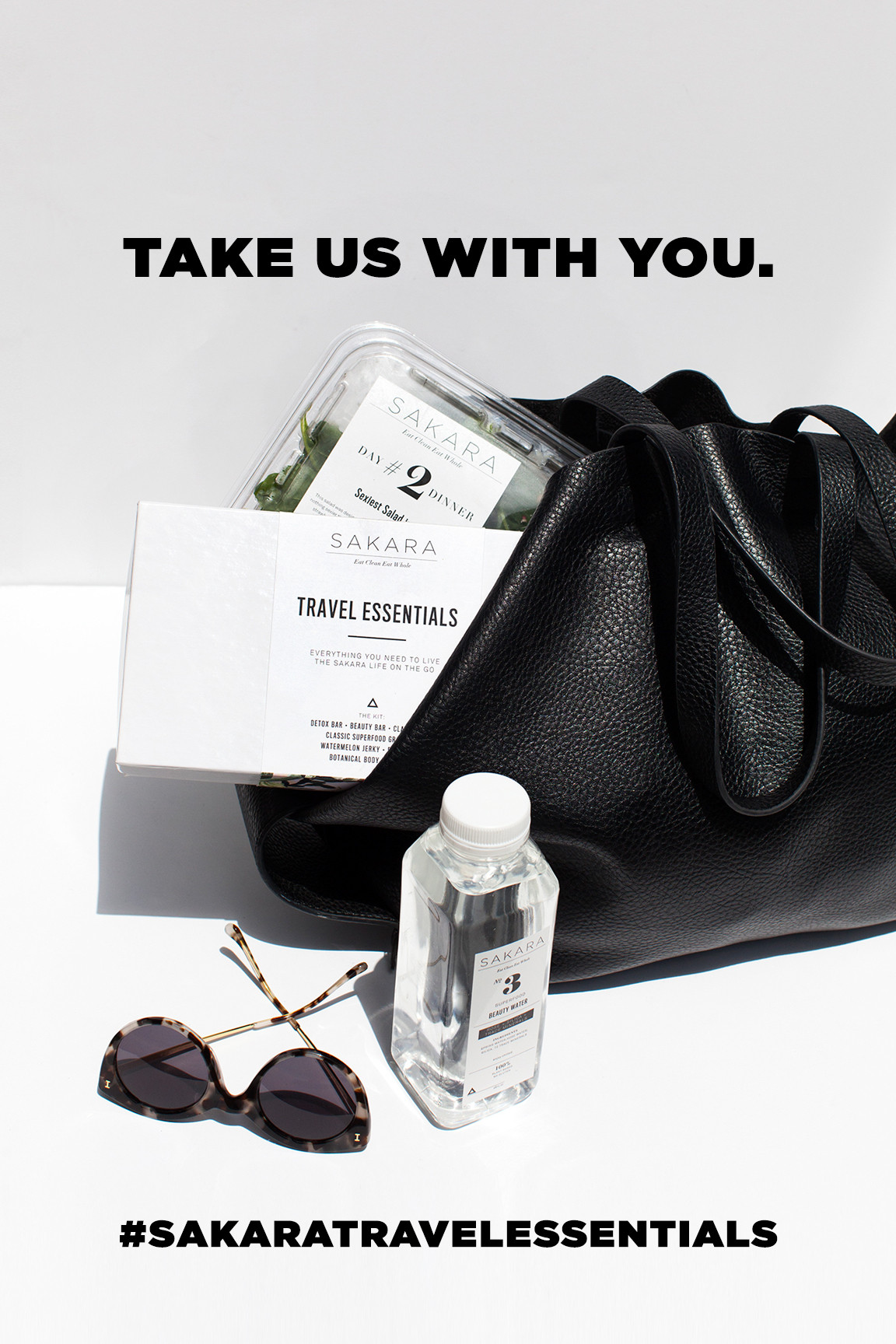 The best part about using this Jet-Set pack as a reset on my day is that I have had a load of vegetables, fruit, whole grains and vitamins. I've had loads of water (in many different forms), and at about 9p.m. tonight (if I'm lucky) I will wrap and choose whatever I want for dinner! I might even join my friends I haven't seen in a bit and crush a glass of wine (#sorrynotsorry).
Thank you to all of the lovely ladies at Sakara for keeping me as healthy as possible!
---