Monthly Medicine | June is Going with the Flow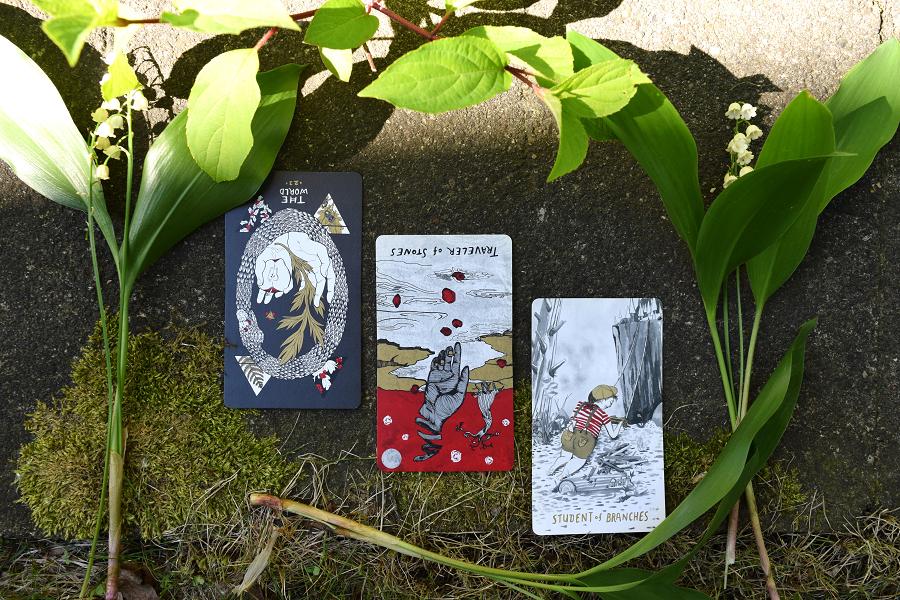 What's still lingering: The World Reversed
What we're moving into: Traveler of Stones Reversed Further Advice: Student of Branches
Deck: Slow Holler
To be completely honest with each and every one of you, I went against the tide of last month's medicine. If you remember, May was all about stepping it up, building upon your efforts of months prior, becoming more serious, and dedicating yourself to creating something solid as a rock. Yeah…that didn't happen for me. Instead, I rebelled against that energy. I took it easy. I let my to-do list wither away. All of my horoscopes and tarot-scopes suggesting that May was going to be the busiest and most successful of the year became an afterthought. At first, I couldn't believe I was bucking against all of this wonderful energy, but now that I think about it, it was exactly what I needed.
With that being said, if you were feeling a bit stuck, lazy, like you'd been taking a break/vacation/step away for a while, or were even down in the dumps, I'm not at all surprised. Maybe all the activity of Spring caught up with you. Maybe you just wanted to stop and linger and enjoy all that was blooming. Maybe you were aware of just how busy this summer's going to be and you wanted to take a self-care breather. Whatever the case was, it's all OK and please, don't feel as though you failed yourself, your work or creative pursuits, etc. The World Reversed acted like a gentle pause last month and forced you to slow it the hell down. If you were a busy bee last month (I applaud you!) and felt like road blocks, deadlines, others around you, or even the universe was throwing every single curve ball into your path, don't fret. Make peace with any and all hindrances and move along in the best way you can.
So what does June have in store? Some of you may revel in this announcement – and others, especially if you're an Earth sign like me (or simply a real go-getter), may initially cringe. The Traveler of Stones Reversed is here to say that you should expect more of the same. Just like May, this month is going to be a sacred pause in your progress or movement forward. This could be felt by continuing any resting you were doing at the end of last month, taking more time out for self-care, or simply letting go of any plans you had set forth for yourself. While this could be painful for some in there might be feelings of unsure footing on the path you're currently on, not feeling as cozy with yourself, or even periods where you feel you're swimming one moment then sinking the next, I want you to know that now's the time to not make any big plans and to just go with the flow. Be less practical. Don't overly commit yourself. Be less of a tight ass, so to speak, which is certainly something I need to embrace. Lose a bit of control and let things fall where they may.
If you're still unsure of the magic of the Traveler of Stones Reversed, know it presented itself for a reason. With its dozing and slow regrouping, swaying, or even shaky energy, comes the opportunity for you to reengage and rediscover what it truly is that brings you to life. The Student of Branches has many questions for you such as: What elates you? What wakes you the hell up? What stirs a fire within you that makes you eager to awake in the morning? What has you feeling so consumed with satisfaction, desire, joy, and the like that you allow time and what you're supposed to be doing slip by you? What makes any obstacles you're currently facing feel less painful or giant? Allow yourself to indulge in whatever charms you. Be open to it being something you never considered or expected. Open yourself up to a more playful and youthful side of yourself. Throw caution to the wind. Live.