Monthly Channeled Forecast | July is for Departure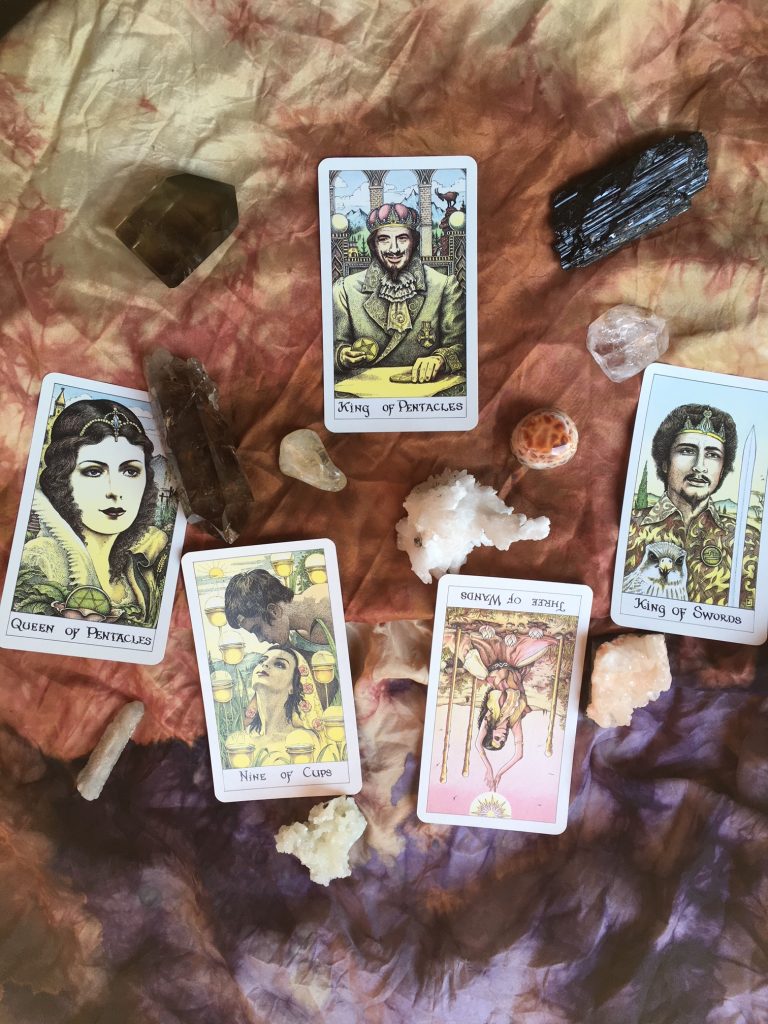 Significator: King of Wands
Walking away from: Queen of Pentacles, 9 of Cups
Walking into: 3 of Wands, King of Swords
Channeled from my Spirit Guide, Ruth, using the Cosmic Tarot deck.
Last weekend, I dropped off a good friend at the airport where she was about to embark on an exciting writing residency in the mountains. She had no idea what to expect from her retreat and had never been to this small mountain town before. She was essentially going to live out of her suitcase for a few weeks.
In about three weeks, I will be knee-deep in a ten-day silent retreat – Vipassana – connecting my mind and body through intense self-observing meditation.
The month of July is an adventure into the unknown – we are all on a collective journey leading to somewhere – even if that journey is located near or at your home base. We are taking profound leaps of faith this month. These leaps are actual, tangible leaps, as well as big choices or decisions for our life.
I would like to get specific with this collective journey we are on this month. For a lot of us it's about finally manifesting our creative gifts and being recognized for them in some way, shape, or form. For the first half of 2018, we have been conjuring, processing, and working towards realizing our goal. When an offering shows up this month, we must recognize that even though the timing feels overwhelming and impossible, it wouldn't be showing up as an offering if the universe didn't think we would be capable of receiving it. The King of Wands is bringing us to the next level of our soul's path. There is real mastery during this time, and you bet you worked your asses off to receive all that for which you have worked. There will be a lot of chances to expand this month, and the King of Wands wants us to live actively and really take charge of what is being offered to us.
The tough thing to swallow this month is that we are walking away from the energy of the Queen of Pentacles and 9 of Cups. The good news is that these cards gave us the stability and optimism to accomplish whatever we have been yearning for this year. In June, the 9 of Cups offered us the optimism to wish for whatever we desired, and in July, we must release that wish into the universe and trust that we will receive it because we deserve it. We cannot sit in complacency this month. The sense of grounding and clarity will help us walk into July with the will to manifest. But what happens after you achieve that clarity? Are we just going to sit back and keep expecting to receive? July is showing us how to persevere through mental challenge (King of Swords). Remember: When we scale one mountain, another mountain will show up.
The good news is, anything we would like to manifest this month will literally fall into our laps if we allow it. July is our departure to the place of soul growth, and the 3 of Wands is the intuitive trust is takes to arrive even if you are in a deep place of fear. The 3 of Wands in reversal contains challenging energy that is very difficult to accept these soul offerings because we are simply living in fear when we travel outside of our comfort zone.
In my visions, my guide showed me a massive chalice containing "fire water", which symbolizes our overflowing abundance of creative energy this month. If we can take the energy of Cancer's intuitive water and mix it with Leo's fierce fire, we can be assured that anything we desire will come into fruition if we decide to show up. But you must trust, allow, and believe that you are capable of receiving these gifts.
What truth do you need to speak this month? Imagine a stream of blue light clearing and making space in your throat chakra for the things you need to say. The King of Swords is giving us the agency we need to articulate to cut through any bullshit that isn't our truth this month. Remember the power of thought is incredibly powerful; allow your beautiful dreams and visions to pierce through you and watch as they manifest into tangible reality. What a powerful month we are rolling through!