Monthly Medicine | July is About Returning to You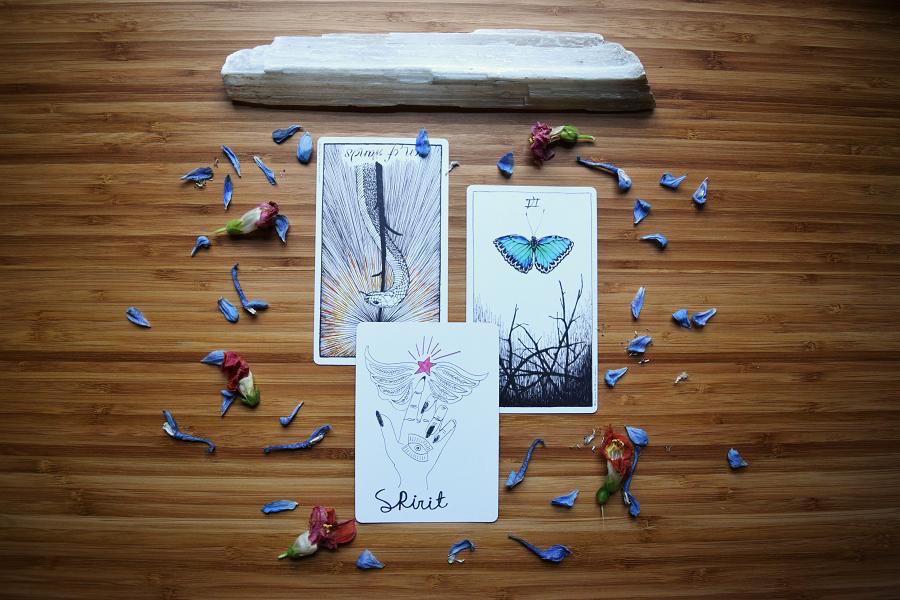 What's still lingering: Son of Wands Reversed
What we're moving into: Six of Wands
Further Advice: Spirit
Decks: The Wild Unknown, Vessel Oracle
Before I do any reading, whether one card, three, or nearly the entire deck, I like to sit with myself and get in a meditative state. I've pictured myself on a bluff above the ocean, in the middle of nowhere under the only tree for miles, standing knee-deep in water looking longingly at the moon, in the woods with animals lingering in the background, you name it. But for reading for a large audience such as yourself, that no longer feels applicable. My head, heart, and spirit are eager to try something wholly different and out of the norm of my practice, yet still true and authentic to me. I shook things up for myself, shelved what I felt wasn't entirely working, let myself breakaway from what I've frankly felt a little burnt out by, and allowed myself and my pre-card pulling ritual to evolve into a new state. A little something like this is in the air for you this July, dear readers.
Enough about me and my tarot practice, let's turn the tables to you. How has your summer been going? What have you been delving deeply into? Where have you used up and spent all of your energy? Are you feeling yourself being pulled by the likes of weekend graduation parties, weddings, Pride celebrations, yada yada, and feeling as though, while it's a damn good time, you're burnt the hell out? Regardless of the cause(s), know there are many around you feeling just as wiped out and restless for change. The Son of Wands Reversed indicates that we're entering the month of July a little ragged, uninspired, and fried. Feeling fizzled out? I don't doubt it. Tired of the focus being on everything else and not on your wants, needs, or path? Trust me, I'm right there with you. Noticing you've been burning the candle at both ends like Edina and Patsy of 'Absolutely Fabulous' and need to get back to healthy practice basics so you can return to being your best self (raises hand)? So what are you going to do to bring about some much needed change?
Even though making those changes is easier said than done, after pulling the Six of Wands for y'all I was enormously pleased. While this card, across numerous decks, indicates success, victory, positivity, and general optimism, I instead focused on one of the Wild Unknown's best features, its unique imagery, and received a different message. Instead of a general sense of being on the up and up, there's the movement of leaving a used and spent pile of fun, energy, whatever you're ready to part with, and emerging from it in a renewed, better, and more colorful form. Think of it as acknowledging there's nothing left for you in a current situation and turning your heels towards a path that's better suited for you. Think of it as realizing you've been running on empty and finding delight in regrouping. Think of it as noticing you've been so caught up with the passion of group dynamics and social circles that the urgency to return to a simpler state is there. Again, it's easy to take stock of all of this, but what other push would be helpful in those efforts?
To put it simply, you just have to be who the hell you are and to listen to yourself. Be feisty if that's your nature. Be the character you know you are. Allow yourself to live and let live. Believe in yourself, your choices, your actions, your call to stop and rest, and the like. Put the focus on whatever is calling out to you. If your Spirit is drained from following the energy of others, take a step back and listen to yourself. Even though the weather, endless list of social obligations, and calendar of events for this time of year encourages us to be social butterflies and to engage engage engage, it doesn't mean we have to put our passion projects or emotional/mental/spiritual development on pause. This is a total YOU DO YOU moment. If color and vibrancy have been lacking in your life, bring it about in your own time and way. Again, do whatever feels authentic to your natural and beautiful state and allow your true desires to come to the surface.
To be short and sweet, dear reader, use the month of July to take and transform yourself into whomever your Spirit is calling you out to be, say buh-bye (this can be only temporary!) to all that's been burning you out, and transport yourself to a richer and more fulfilling higher ground.