Modern Day Mad Hatter | Meet Cate Havstad of Havstad Hat Co.
Hats and headresses – people have been adorning their heads for thousands of years. They've been used in sacred ceremony, as fashion statements, as protection against the elements, or as a way to show rank or social status. From the practical to the flamboyant, each century was defined by a new hat form and style. Think Egyptian headdresses, prairie bonnets, cowboy hats and pillboxes. From furs and felts, to leathers and lace, no material has been off limits to adorn the top of one's head. Hats have been on my head for so many years that they've become a form of my own identity, a defining part of my silhouette. In fact, my friends have adjusted to hugging me hello with plenty of space to accommodate my wide brims.
As with many things in fast fashion today, the artistry of making headwear has and is threatened by overseas production, whomever can create the product faster and "cheaper". But their prices fail to reflect the true cost of the product. Cate Havstad of Havstad Hat Co. isn't having any part of that. She is upholding the old way of doing things, and, in the process, she's creating some of the most beautifully customized wearable works of art.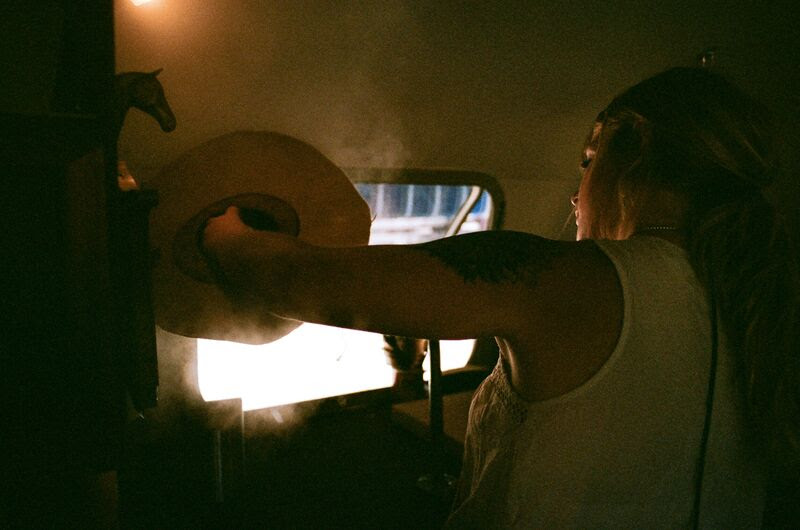 Hats seem to be having a major comeback right now. I know that I rarely leave the house without one! So, as a hat maker, what pray tell Miss Cate is it about a good hat?
I can't speak for all folks as to why hats have come back in popularity, so I will speak from my heart about my own experiences. My first real hat came to me during a transitional time in my life. It was given to me with beautiful intention behind it. Five years ago, I was considering dropping out of college at UC Santa Cruz to hit the road as a videographer and assistant on a music documentary, with songwriter Willy Tea Taylor. I was nervous about the decision to leave the life I knew for a journey full of unknowns. It was a leap of faith that I was asked to take, and that leap changed my life. Willy Tea showed up in Santa Cruz one day with this great hat, he called it my "movie making hat.". He told me to trust my intuition and to seek the inspiration that was to be found on the road. I wore that hat every day. It became a part of my new silhouette as a person. I believe when we adorn ourselves –  in clothing, objects, tattoos and hats –  there is a positive energy and good intention within them; they become almost like our (healthy) armor. I think about this a lot, and that is why I am so intent on creating one-of-a-kind, custom hats that are made for one person in mind. As I work on them, I think about what I know about the person, how this hat may become a symbolic silhouette for them, putting the best intentions into each piece.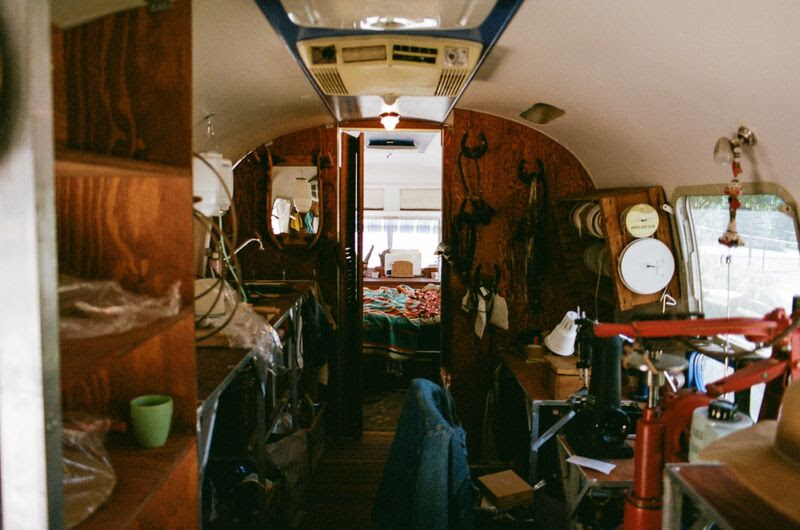 My first teacher was a western master hatter. He makes cowboy hats for real working cowboys, and, to a cowboy, a farmer, a wrangler or trail guide, a hat is a necessary, functional piece of attire. Having my formal training in the western realm has given me a deep respect for the rugged functionality and necessity of a good hat. One that can withstand rain, snow, constant sun, stay on in a windstorm, and make it to be passed down to the next generations. Hats for some people become a connection to the past and to heritage, and that is so beautiful to me.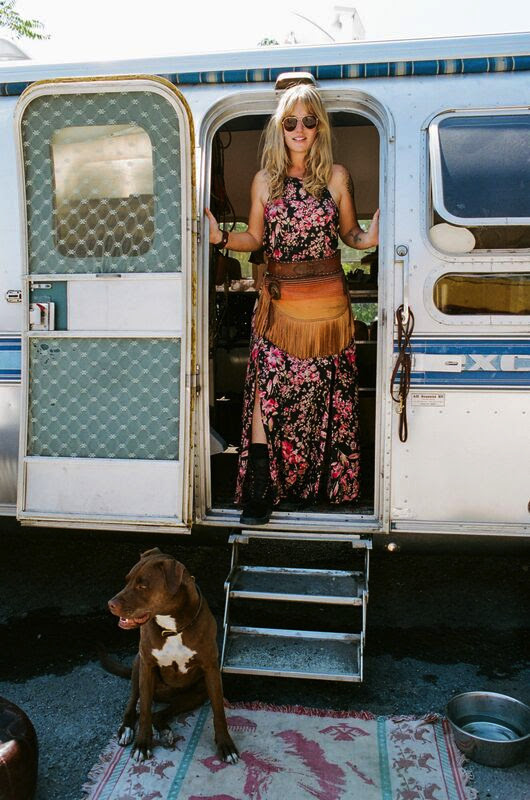 What does a typical day look like in Mad Hatter land? And what type of rituals do you have around your work/creative space?
My typical day starts off with exercise. I usually drive 15 minutes east to the Badlands, where I like to run with my dog. On the weekdays, there is usually no one on the trails, so it's just me, my dog, our breath, the sage, and the ancient junipers. It's the way I clear my mind, and a clear mind leads to a good flow in my workshop.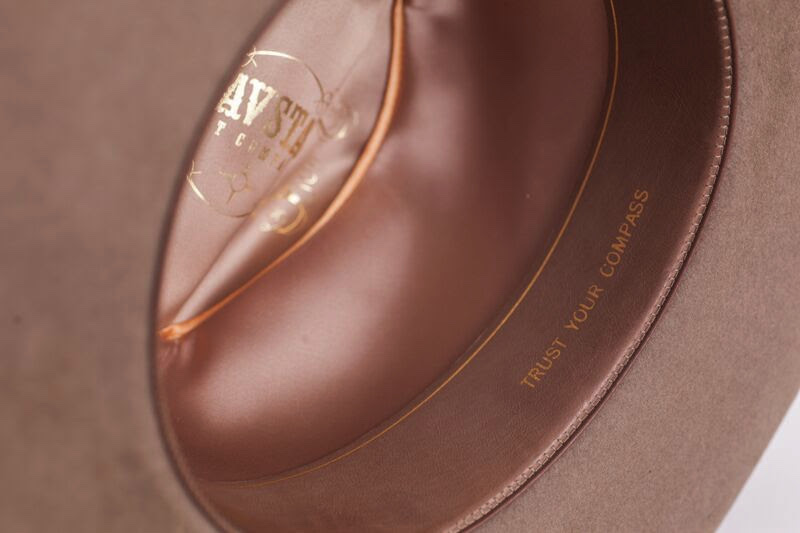 When I get into my workshop, I create a sort of plan of attack for the day, I thrive on to-do lists. I often have a lot of irons in the fire, and each day has a seemingly never-ending to-do list. Then comes music, music is huge in my life and in my work. I work mostly on my own, and I'm usually moving and grooving to a shop playlist that is in constant development. When I need to tune out the noise of my mind and enter into a creative flow, I smoke some herb, put on some of my favorite tunes and dive in.
At the end of the day, if I'm left with enough daylight, I like to join my partner in evening chores on the farm, feeding cows, checking the greenhouse, picking some fresh greens for dinner, and unwinding listening to the flow of the canal.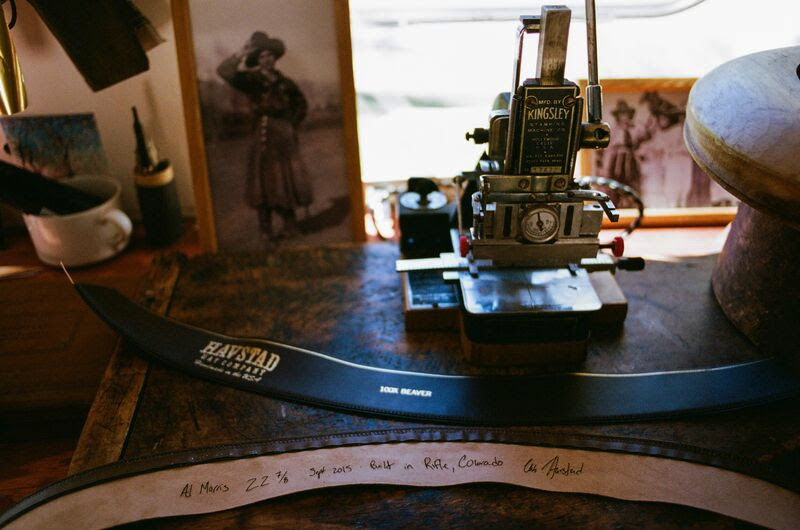 How long does it take for you to make one of your creations, from idea to fully realized wearable art?
It takes about 12 weeks, from initial connection with a customer to a custom hat that sits on their head. First comes the conversation about style wants, hatband ideas and custom liner thoughts. Then I design a custom wooden band block that I make for each customer to their exact head shape for perfect fit. Then comes the ordering of felt, stamping of sweatband, blocking, pouncing, luring, sewing, binding, shaping, setting, and then finishing touches of hatband, boxing and shipment. There is a lot more that goes into a custom hat than most people know.
This hat above is a part of a innovative collection, "Hues of the High Desert" in which Cate collaborated with a botanical artist to create wild-crafted plant dye baths. This hat was dyed with high desert sage from the Oregon region and features a custom beaded band by Chela Lujan, maker of Roadside Remedies, from Pueblo, Colorado. Photo By Tambi Lane.
.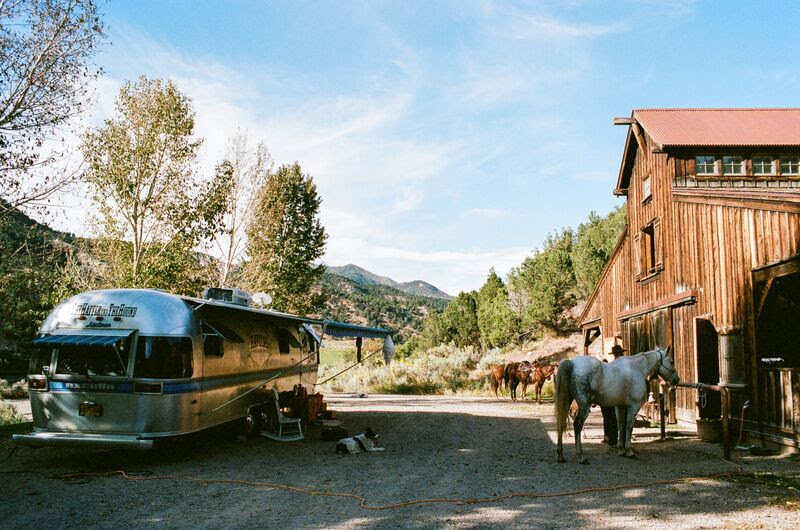 Is there anything coming up with Havstad Hat Co. that we should know about?
Last summer, I executed something that I had dreamed of since I first starting making hats; I bought a gutted, 32-foot airstream and built it out into my custom hat workshop. I did it on a very tiny budget and a very limited amount of time. I found early 1900s redwood flooring at a salvage yard in my hometown and designed the inside to be the most functional use of space, with good storage for all of my very old tools. One of my oldest friends did most of the workshop build out for trade.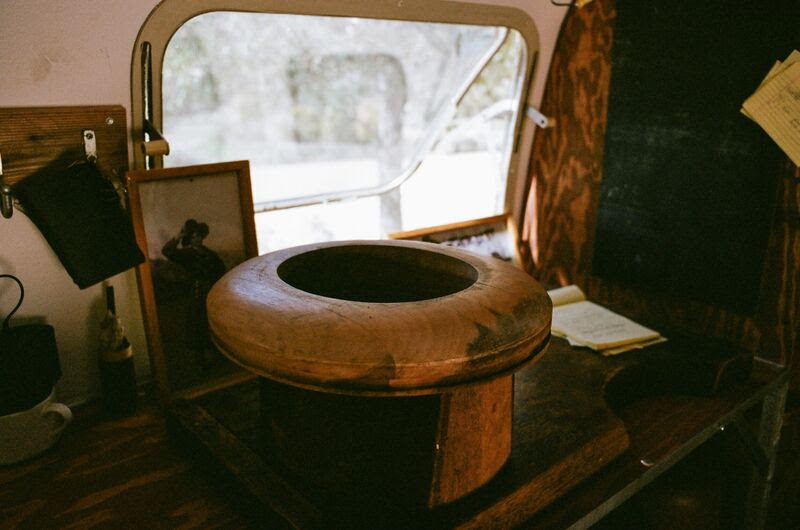 My workshop is my oasis; every day I walk into it I feel immense gratitude to have actualized my dream through hard work and patience. I get to do what I love, with the freedom to take it with me anywhere. I did my first national tour last fall and hauled my rig around the country from Oregon > Colorado> New Mexico > Texas > Tennessee and back around to Oregon. I hosted pop up events in various cities along the way, showing folks what it is I do, my workshop, my tools, most of which most date back to the 1920s and 30s. I get a chance to fit people in person for their custom hats and enjoy meeting folks face to face, learning their stories a bit. I will be hitting the road again come this summer and fall! To keep up with the dates follow along on Instagram. I'm always open to suggestions as well— if there is a store or a city near you that I should visit, I'm all ears!  
To start the conversation about your one-of-a-kind custom hat, send an email to orders@havstadhatco.com. To follow along on the adventures and process of a custom hatter you can find Cate on instagram @havstadhatco and her website.
All photos unless otherwise noted are courtesy of Amanda Leigh Smith