The Land Of Enchantment | Come On a Journey With Us
Enchantment: A quality that attracts and holds your attention by being interesting, pretty, etc. A MAGIC spell.

"Why the Albuquerque hot air balloon festival?" – Some of our friends
"Why not? What a gift to wake before sunrise to see hundreds of well-loved balloons set flight, standing alongside friends. Why not toil long, hard days to peel ourselves away from work and to experience the grandiose qualities of nature, again alongside dear friends and listening to great music. Why not take our first Of The Wolves trip to New Mexico, where we can indulge in colors, in expansiveness, in the confluence of culture…and tequila." – Of The Wolves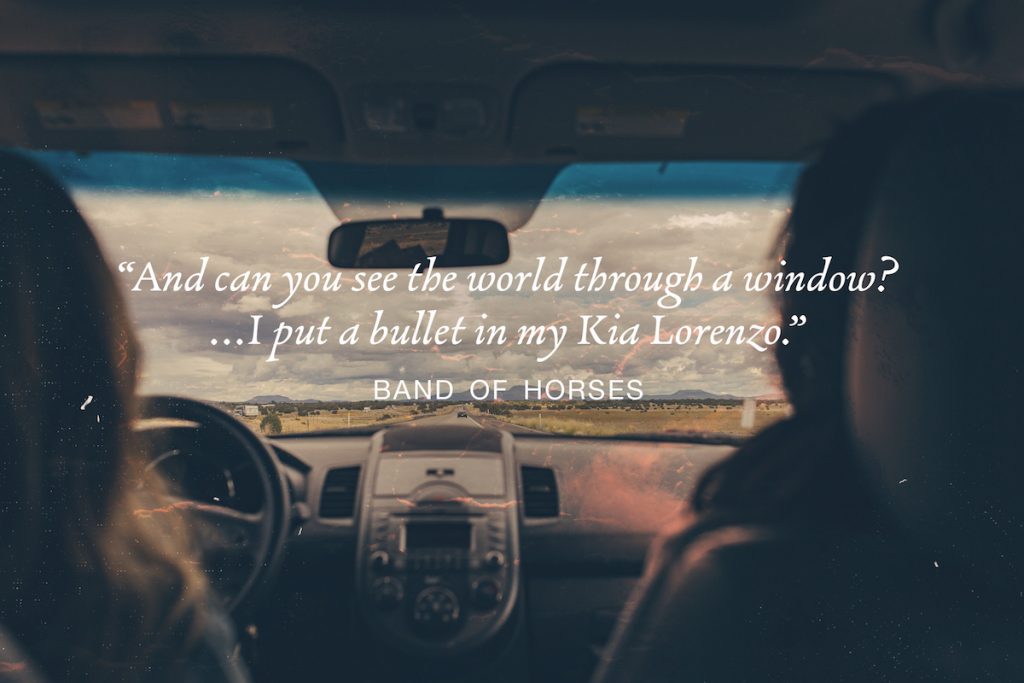 When we began discussing the destination of our first Of The Wolves road trip I don't actually recall much discussion. We'd made a short wish list of eco-resorts, western outposts, and driveable day trips we'd love to visit someday soon, but when the Albuquerque International Balloon Fiesta entered the conversation it seemed unanimous without being declared so. I'd never been to the Fiesta but had seen the vivid photos over the years. However, New Mexico is very special to me. I grew up visiting this state almost yearly, as my parents loved the Southwest and the drive from Oklahoma – where I grew up – was not too tedious. New Mexico helped inform my love of Southwestern decor, architecture and fashion. It also piqued my interest in centuries-old Catholic churches, the beauty of ceremony, Native American culture – other than that of what I grew up with in Oklahoma – and above all my love of Mexico I'd later form. I brought all this inspiration into my life when I decided to buy a home in Austin, Texas several years ago, as the imagery of the old and new Southwest is alive and well there. Sharing this state with Lulu and Taren, who had never seen it, and Michael, who grew up in Albuquerque, as inexhaustible road warriors in Lulu's cozy Kia for five days was the best way to kickoff years of Wolf Pack travels to come.
-Micha
---
The Open Road
"I knew that if I allowed fear to overtake me, my journey was doomed. Fear, to a great extent, is born of a story we tell ourselves, and so I chose to tell myself a different story from the one women are told. I decided I was safe. I was strong. I was brave. Nothing could vanquish me." ― Cheryl Strayed, Wild: From Lost to Found on the Pacific Crest Trail

Road Snacks – let's be honest, they're one of the most essential ingredients for a successful road trip. Driving across 1-40 for a 12-hour trek doesn't provide many opportunities for grabbing healthy food options, so in order to avoid fasting – or fast food – we put together some of our favorite road munchies to keep our stomachs happy and full while on the move and wanted to share some of those suggestions here.
Juice Served Here + Springs LA Grab & Go (substitute your local juice place or favorite at-home juice recipes): Juice Served Here has some of our favorite juicy blends, full of nutrient dense produce from some of their hand-selected local, biodynamic farms. Their juicing facilities produce zero waste, and their juices are never cut with fillers and are GMO free. Now, Juice Served Here has teamed up with LA plant-based favorite The Springs LA ,making it super easy to eat well, on the go! We picked up a few of their vegan sandwiches, salads, and coconut yogurts to fuel up.
Califia Farms XX Espresso Cold Brew Coffee: With 2x the amount of caffeine of a normal cup of coffee, carrageenan-free and non-GMO almond milk, we love the delicious taste! Imbibe a few of these, and you'll be cruising for hours. They also have great almond milk x coffee options to cut down on acidity. Road trips are one heck of a way to create an acidic internal environment, so alkaline antidotes are great to keep on hand.
Jackson's Honest Chips: Because, honestly, they're just the best. Cooked in wonderful coconut oil fat and seasoned to perfection, Jackson's chips are pretty much with us everywhere we go. Sea Salt & Vinegar is an OTW staple at the studio.
Guayaki Yerba Wild Berry Reishi Mate Shot: Staying awake hours on the road sometimes requires a little bit more than just coffee, or just a different flavor profile. These Yerba Mate shots, infused with all-natural superfood extracts, helped keep our eyes open and focused on the finish line.
EPIC Bars: If you're a meat eater and you haven't had an EPIC Bar yet, you're really missing out. This company focuses on land stewardship, sustainable practices, and grass-fed animal proteins, and they make some of the most incredible bars on the market.
---
Santa Fe, NM
Soft warm light, igniting the trees with the first signs of fall. A treasure trove of turquoise and silver and the hands of the Native Americans who have held their tradition for so long. Rummaging through colorful blankets and baskets and cloaks. Harmony's hum leaking out into the streets from the local crystal shops. Needless to say, we loved Santa Fe.
---
Albuquerque, NM
When we arrived at the balloon fields it was 4:45 in the morning, the stars still heavy in the night sky. We made our way through the dewy grass, gripping our coffee cups for warmth."Where were all of the balloons going to be coming from, we don't see anything yet," we wondered as we made our way down the field. But as the first light of morning began to push itself over the mountain top, from the far end of the field, we see the Dawn Patrol balloons begin to unfold their colors into dawn's sky. These are the first collection of balloons that go up in the day to test the air patterns. From there the fields begin to explode with teams unfolding their rainbows, blowing open their balloons, and drifting up and into the clouds. Everywhere you look, another bright balloon. We realized upon beginning this adventure that many people dream of attending the Albuquerque International Balloon Festival. Well, dream no more – start planning your adventure for next year! www.balloonfiesta.com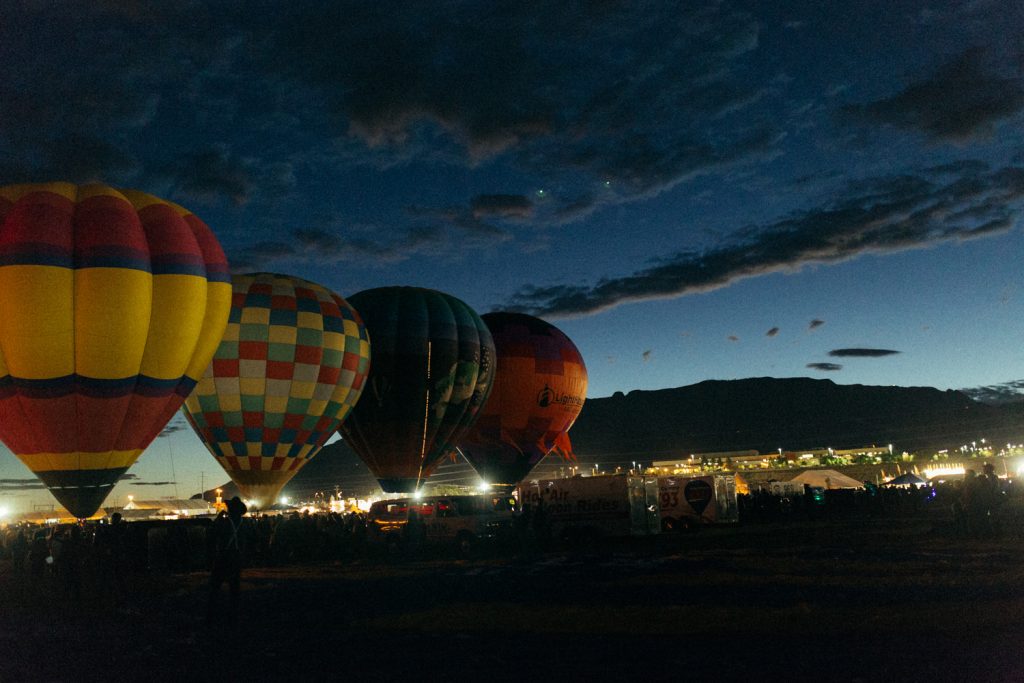 ---
Ghost Ranch | Abiquiu, NM

"Sun-bleached bones were most wonderful against the blue –
that blue that will always be there as it is now after all man's destruction is finished."
– Georgia O'Keeffe
Visiting the mesas and the plateaus that inspired the paintings of Georgia O'Keefe was nothing shy of magical. The red dirt of the Ghost Ranch was peppered with the easels of artists who had come from far and wide, in the hopes of capturing a similar beauty seen by Miss O'Keeffe.
 


What is the desert, without a long flowy dress in which to run around? The ladies of Christy Dawn know just how to make our wild hearts sing with their handmade-in-LA wares. Saving fabrics that other companies have gotten rid of (dead stock), means that each dress is pretty unique and only available in a limited run! Rescuing materials from a land fill by rockin' a gorgeous frock? That's everything we Wolves are about.
---
White Sands National Monument, NM: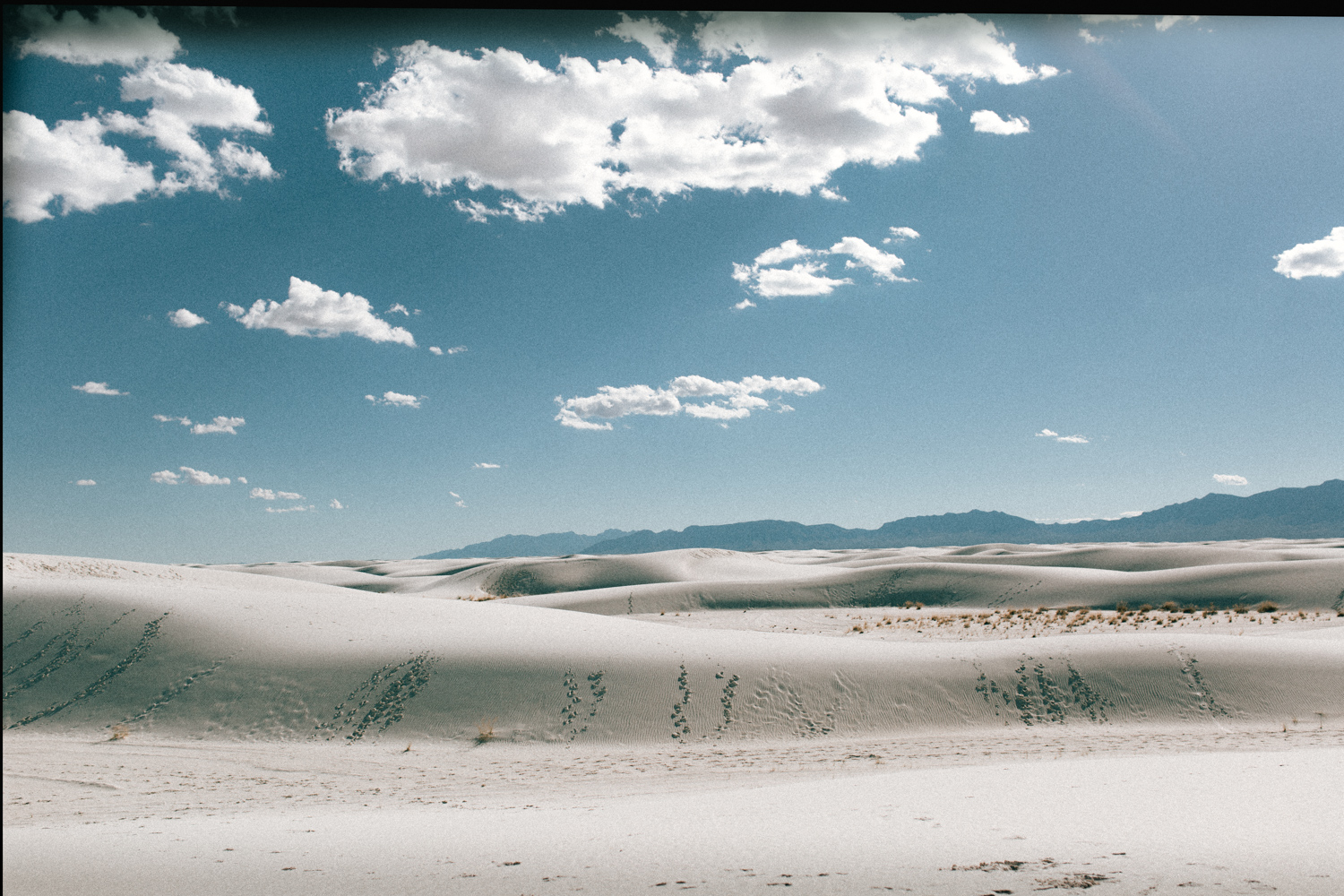 White gypsum sand creeps out of seemingly nowhere and forms dunes across 275 acres of the Tularosa Basin. While it was a three hour drive from our home base in Albuquerque, it was beauty as far as the eye could see the entire drive there– big open skies, fields of sage and mountain ranges. At White Sands, people disappear into hills of white rolling sands and families sled down the dunes. It's definitely a sight to behold if you're in New Mexico.
---
We were fortunate to be traveling with photographer extraordinaire, Taren Maroun, who captured our entire trip and made this beautiful video to document our travels. Next year, you're invited.
Love,
OTW