Rainbow Cherry Tomato Confit | Kitchen Witch
Tomatoes, for me, are the foundation of many meals from my growing years. My grandfather, an Italian immigrant to Australia in the late 50s, maintained a lifestyle that was beautifully Italian in the face of a sometimes unaccepting colonial Australia. We practiced long, lazily coursed meals that simply honored the seasonal and homegrown fruits and vegetables, with no special attention to superfoods, just simply food, enjoyed together, never rushing and with much conversation.
The tomato is a chameleon, creator; it's divine – a canvas for much bolder flavor, the co-conspirator, the star, and the chorus. If God were edible she'd be a tomato, I think.
My inspiration for this recipe was the out-of-this-world Tomato Confit baguette that I'm affectionate with (read, obsessed with) at Gjusta bakery, in Venice, California. The much-loved bakery offers a sandwich that's simple and straightforward – how good food should be. It features a baked-that-morning baguette, slow cooked tomato confit, and an optional dollop of burrata. Mmm.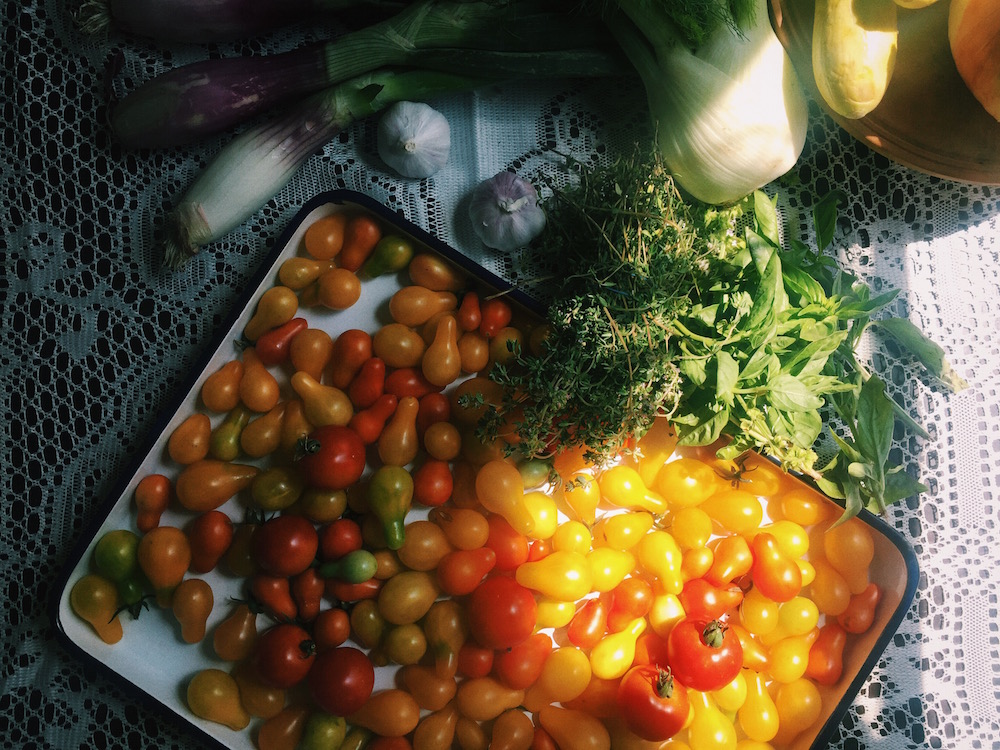 You will need:
A handful of clean jars
A few pounds of cherry tomatoes
2 C olive oil, or enough to cover, sprig of basil, thyme, rosemary (one or all three) a few crushed garlic cloves
Salt to taste
Instructions:
Preheat oven to 250 degrees fahrenheit.
Bring a large pot of water to a boil. Prepare an ice bath.
Using a sharp paring knife, score each cherry tomato with an X on the underside.
Once the water is at a boil, blanch handfuls at a time for one minute only. Scoop to surface with a slotted spoon. Throw into the icebath and repeat until all the tomatoes are blanched.
Get a friend to help you peel the skins from each tomato. They should slip right off, but this does take a little time. Many hands are better than two.
Arrange the tomatoes in a single layer. I used an enamel baking tray (which I love, so easy to clean).  Add garlic, basil, thyme or rosemary. Pour olive oil to cover. Bake for 2-4 hours depending on your preference. I went for the two hour mark for the cherry tomatoes but will go longer on the next batch, this will deepen the flavor.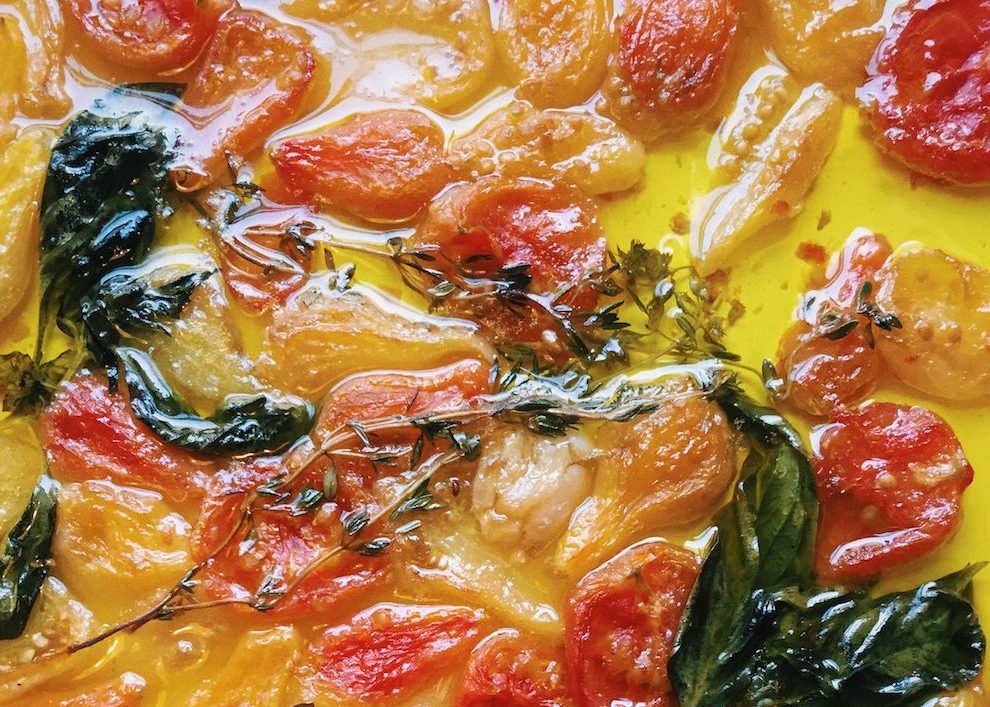 Once cooled scoop into small jars, cover with cooking oil from pan. These confit tomatoes will keep 2-3 weeks in the fridge. Slap them on a piece of burnt ciabatta, or throw a handful into a morning omelette.
Savor. Enjoy. Give a jar to your neighbor.