Nature At Your Fingertips | A Few Of Our Favorite Green Apps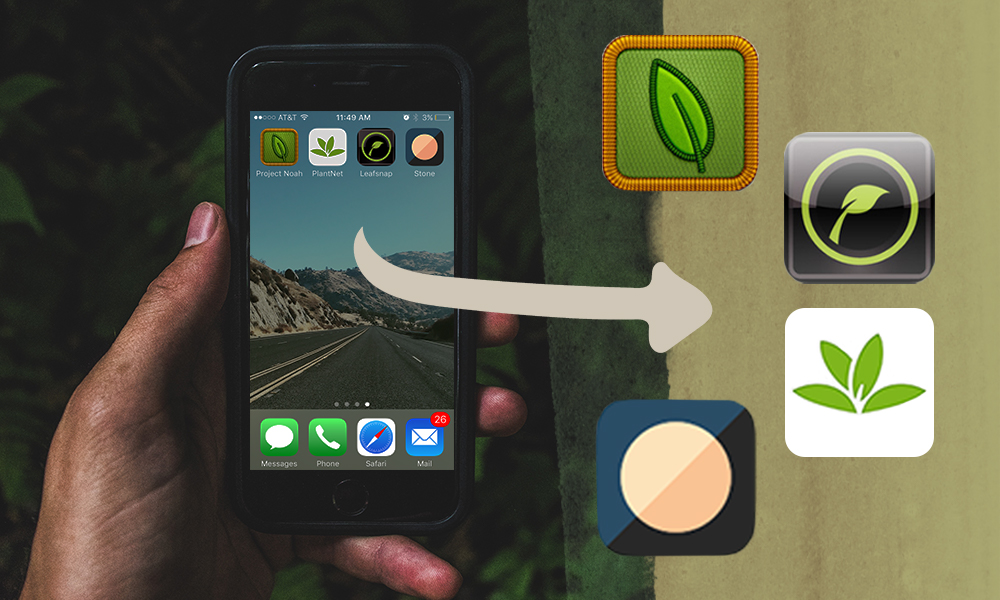 We do our best to be #truthtellers, so we will not fib to you about this – when we're in nature our mobile devices are often times on our persons or slung across our shoulder nestled in our bags. Not always, but often. But carrying our devices allows us to document some of our favorite moments out in the world as well as to learn more from some of the wonderful nature-based apps that keep cropping up. I met the founder of Project Noah years ago through my work with the annual conference, accelerator and Fellowships-centered org PopTech. He turned me on to the educational opportunities right under our thumbs, and since then I've tried several nature-based phone apps to much enjoyment. Following are a few of our favorites, and yes, crystals are a magnificent part of nature, too – living, solid materials created by Mother Earth. One of my favorite crystals? Snowflakes!
Project Noah
Project Noah is a tool to explore and document wildlife and a platform to harness the power of citizen scientists everywhere. Backed by National Geographic, Project Noah is mobilizing a new generation of nature explorers and helping people from around the world appreciate their local wildlife. Their community is harnessing the power and popularity of new mobile technologies to collect important ecological data and help preserve global biodiversity. The app is free to use.
Learn more and download here.
"For the developers at New York start-up Networked Organisms, smartphones are the butterfly nets of the 21st Century. Their tool, Project Noah, lets people upload photos of plants and wildlife around them, creating a map of the natural world and contributing to scientific research in the process."
– Wall Street Journal
"A modern invention that may also hold the key to saving species in the future. Project Noah is a global study that encourages nature lovers to document the wildlife they encounter, using a purpose built phone app and web community." – BBC
Plant Net
PlantNet is an image sharing and retrieval application for the identification of plants. It's developed by scientists from four French research organizations (Cirad, INRA, Inria and IRD), and the Tela Botanica network. Among other features, this app helps identifying plant species from photographs, through visual recognition software. Plant species that are well enough illustrated in the botanical reference database can be easily recognized. This app works for different territories. The species list is available through the application. The number of species and the number of images used by the application evolve with contributions of end users to the project. There are limitations of  international regions and localized plants that are not recognized yet, but the app is still enjoyable to flip through. The app is free to use.
Learn more and download here.
Leafsnap
Leafsnap is a series of electronic field guides developed by researchers from Columbia University, the University of Maryland, and the Smithsonian Institution. The free mobile apps use visual recognition software to help identify tree species from photographs of their leaves. They contain beautiful high-resolution images of leaves, flowers, fruits, petioles, seeds and bark.
The original Leafsnap currently includes trees found in the Northeastern United States and Canada, and will soon grow to include the trees of the entire continental United States. This website shows the tree species included in Leafsnap, the collections of its users, and the team of research volunteers working to produce it. The Leafsnap UK app includes trees from the United Kingdom with species information and imagery provided by the Natural History Museum in London. The City College of New York developed and tested curricular materials that use the Leafsnap app to help middle school students notice, group, and contextualize street trees in the patterns of evolution. The app is free to use.
Learn more and download here.
STONE
STONE is the crystal app designed to bring a little light to the modern life. STONE has:
– Elegant design and intuitive functionality
– Beautifully captured crystal specimens
– Short-and-sweet descriptions of crystals and their super powers—written just for you
An always-on, easy-to-access manual of minerals for your back pocket or the bottom of your Birkin bag, STONE is the perfect companion for the uninitiated and crystal cognoscenti alike. The app is free to use.
Learn more and download here.