Glow Baby Glow | A Peek Inside Noto Botanics
It's summertime! The sun is blazing, and the beach beckons. Don't worry if you don't have time to soak up a healthy dose of Vitamin D,
Noto Botanics
has you covered with their incredible products to make your skin glow all dewy and fresh. My daily Noto goes a little something like this:  in the morning MULTI-BENNE COLOR STAIN goes on my lips, cheeks and eyes, and it gets removed at night when I wash my face + moisturize + mist myself like crazy with Noto's DEEP SERUM and BASIL YARROW MIST, then the ROOTED OIL gets rubbed all over my hair + skin + body.  And the best news yet? It's organic, which means it's healing to your inner-glow and your outer-glow. In case I haven't said this before,
I. Love. Noto. Botanics. 
Below, Gloria Noto lets us into her beautiful world of Noto Botanics.
MY DAILY NOTO
(and all of their incredible benefits according to Noto Botanics + photos by Smith-Davis)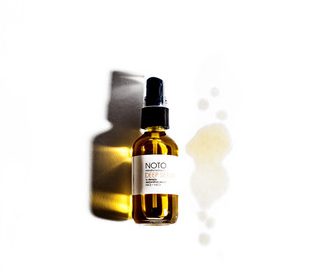 DEEP SERUM // FACE + NECK \\ This oil will give you a strong dose of hydration, age protection and skin brightening.  Each drop of this potent oil is a nutrient dense drink from the earth. Packed with hydration, anti aging qualities and a fresh smell that brings ritual to your routine.  Apply a few drops on your clean hands, breathe in the aroma, then massage onto your clean face – day or night.  You can even use this oil as a no-water needed face cleanser by applying a small amount on a cotton pad.  Wild harvested Rosehip flowers are added to each bottle to induce even more potency as time passes Organic Oils of Marula- vitamin C, tocopherol (vitamin E), tochotrienol, phenolic compounds, essential amino acids and flavonoids that help cells renew, essential fatty acids Omega 9 – oleic and Omega 6 – linoleic that deeply hydrate and reduce redness +  Rosehip seed – anti-aging, anti-inflammatory, nourishing + Yarrow extract – purifying, calming, wound healing + Tamanu – a powerful skin regenerator, antibacterial, anti-inflammatory + Grapeseed – moisturizing, anti-aging + Mustard seed – skin brightening, antibacterial, wound healing + Sea Buckthorn – high in vitamin C, tissue healing, radio-protective benefits, wrinkle reducing + Wild Carrot – cell rejuvenation, vitamin A, acne healing, moisturizing + German (blue) Chamomile – high azulene content, calming, anti-inflammatory, sebum restorative + Sandalwood – highly sattvic, calming, tranquility, centering + Grapefruit Oil- vitamin C, antiseptic, disinfectant + Caffeine Crystals – skin tightening, awakening
+
BASIL YARROW MIST // Face + Body + Hair \\ A gentle toning mist that will awaken thirsty skin with yarrow extract that calms and regenerates skin, while aloe soothes and moisturizes.  Basil, rose water, ylang ylang, and rose oil bring vitamins and additional soothing.  Spray any time of day and night.  You can use this as a light moisturizer or on top of your products for added benefits or on bare skin for a soft toning.  You can even spray this into hair to freshen and hydrate. // Organic Ingredients of:  Distilled Rose Water – calming, hydrating + Yarrow extract – purifying, calming, wound healing + Rose essential oil – calming, anti-inflammatory+ Basil essential oil – opens lung and nose passageways + Ylang Ylang oil – mood lifter, antiseptic, aphrodisiac + German (blue) Chamomile – high azulene content, calming, anti-inflammatory, sebum restorative + Witch hazel – antiseptic, antibacterial
+
ROOTED OIL ROLLER // BODY + HAIR \\  A smokey unisex blend that bring a shamanistic grounding to your life. This precious essential oil blend is to be applied as a body scent or in hair / beard for nourishing texture.  Ethically sourced sandalwood chips are added to each bottle to refine your oil as time passes. Organic Oils of:  Palo Santo (ethically wildcrafted) – natural purifier, concentration, grounding, mood lifter + Wild Harvested Somalian Frankincense – antiseptic, healing, anti-aging, protection + Haitian Vetiver – calming, cooling, grounding, centering + Madagascar Black Pepper – sensuality, mind stimulating, mind clearing, alertness, healthy circulation + Cedarwood – toxin remover, soothing, optimism enhancing + Labdanum Absolute- mind-calming, astringent, anti-aging, grounding, toning + Jojoba – moisturizing, conditioning, wound healing + Cardamom – aphrodisiac, uplifting, antiseptic, camphorous + Sandalwood- highly sattvic, calming, tranquility, centering + Birch Tar – astringent, comforting, relaxing + Argan- high in vitamin A and E, nourishing, anti-aging, anti-inflammatory
+
MULTI-BENNE COLOR STAINS // LIPS + CHEEKS + EYES \\ This multi-use color is build-able, nourishing, and repairing.  As a makeup artist, Gloria Noto wanted to find color she could use that was not only beautiful on on top of the skin but also acted as food for your skin. Organic Ingredients:  Raw Cocoa Butter – hydrating fatty acids, high in antioxidants + Raw Shea Butter – healthy dose of vitamins A and E, anti-inflammatory, skin healing + Rosehip seed oil – anti-aging, anti-inflammatory, nourishing + Coconut oil – antimicrobial , capric, caprylic, lauric acid, vitamin E  + Sweet Almond oil – plumping, firming, vitamins A, B, and E + Peppermint oil – acne reducing, skin brightening, smells delicious  + Candelilla Wax- binding agent + Raw Cocoa –  packed with antioxidants to fight aging + Turmeric – antibacterial + Iron Oxide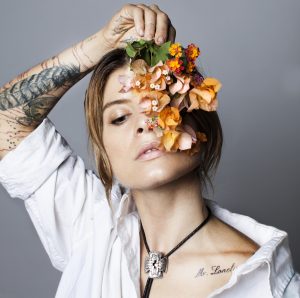 What was the inspiration for Noto Botanics, the story behind how it came to be?
I have been mixing my own scents and cosmetics for myself and my makeup kit for years. Understanding how ingredients are either medicine or poison for your well-being started to become a huge interest of mine. In addition to my growing interest in being connected to what I bring into my life, I took some time off in Thailand where I began to really evaluate what my future would look like. In addition to taking time away, I got news of my big sister getting cancer. It was a huge turning point of reflection for me. I decided that inspiring others with a genuine interest in well being and passionate living was the direction I wanted to go in. I decided to follow my bliss and launch NOTO botanics, which is not only a natural cosmetic brand but also a lifestyle brand that brings in community and cultivates culture with different gatherings, interview features, and community offerings. I wanted to celebrate a mindful and fun way of living for everyone to enjoy.   Looking good on the outside is just as important as feeling good on the inside.  
As a make-up artist, you see + touch a lot of faces, what's the biggest mistake you see people making when it comes to their skin care?
I think the biggest mistake is not being aware of your personal needs. We often think there is a universal band-aid that will fix my skin and your skin and his skin and her skin. Truth is, we are such complex creatures with different issues to pay attention to. It's like thinking that one specific way of eating works for everyone, or one type of dress will fit us all. It's important to take time to understand your hormones, your diet, your stress levels, etc. and then tailor what your needs are accordingly.  Also, I find that using too much product is hard on the skin because you are constantly training it to work in a different way with each product. This is why I love using all natural ingredients that synergistically work with your body instead of fighting to change it. 
How does washing your face with oil actually help your skin?
We often think oil on skin will cause it to break out. And this can be true to an extent, depending on what type of oils you use and what type of skin you have. You may be fine with coconut oil, and it may make me break out; therefore, I may need something more fine like rosehip seed oil. Our skin needs to drink just like we need to drink water, and feeding it oils that work is one way of doing this. Ironically, oily skin is often actually extra thirsty; therefore, overproducing oil to get quenched. In addition, soaps can often strip the skin of these natural oils that are in the pours, causing it to freak out shortly after your skin has dried from the wash. Using oil to remove dirt is a great way to absorb and extract impurities. They almost attract like a magnet. I mostly use oil to clean my face, but I also love using a gentle exfoliate or natural face wash every once in a while to polish my skin. It's all about balance ! 
Do you have a favorite oil or herb that you like using in your beauty regime?
YES! My own! I formulated all my products originally for my self because I wasn't satisfied with a lot of the products I saw out there. I love my Deep Serum because it doesn't feel heavy, as it absorbs into the skin fast, in addition to having anti-aging ingredients that fight free radicals in the atmosphere. It also smells incredible so it gives my mood a huge dose of uplifting joy!
What is the message you hope to convey to the world through your botanical line?
I am all about being aware, self reflection, and following what makes you happy and joyful. I believe that being mindful and connected to how you paint your life's picture is a choice we have. Creating NOTO Botanics bring me a huge amount of personal joy, especially when I hear how people respond to using it, smelling it, and playing with it.  I get a huge amount of joy also in building the culture and lifestyle behind it. I think, for me, this is all about connecting – in many different forms – and as I get older I realize that is what brings me and others joy.